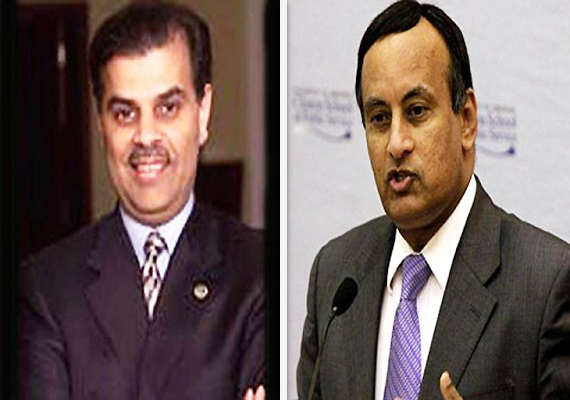 Islamabad, Feb 22: American businessman Mansoor Ijaz today stuck to his claim before a Pakistani judicial commission that he drafted and delivered a memo seeking US help to stave off a possible military coup in Pakistan on the instructions of former envoy Husain Haqqani. 

Ijaz made the claim while deposing via video link from London before Pakistan Supreme Court appointed commission investigating the mysterious memo that triggered a tense stand-off between the civilian government and the powerful military last year.

While recording his statement, Ijaz repeated many of the claims he has made over the past few months regarding the memo.

He provided bills from his mobile phone service provider and notes of his alleged discussions with Haqqani to back his claims.

Ijaz claimed Haqqani had told him that if the US helped remove Pakistan Army chief Gen Ashfaq Parvez Kayani, then persons amenable to the American administration would be included in the new national security set-up that would be created by President Asif Ali Zardari. 

He further claimed Haqqani had told him that Pakistan would help capture top terrorists like Afghan Taliban chief Mullah Mohammad Omar and al-Qaeda leader Aiman Al-Zawahiri. 

The controversial businessman claimed his contacts with Haqqani began on May 3 last year - a day after a day Osama bin Laden was killed during a raid by US Special Forces in Abbottabad.

Ijaz claimed Haqqani had said the Pakistan Army was pressuring Zardari and wanted to depose the civilian government.

Ijaz said that Haqqani often spoke in haste and appeared nervous during their phone conversations.

Ijaz added that Haqqani had devised various code words for use in their messages, including "Ispahani" for the Americans, "friends" for Pakistanis and "boss" for Zardari. 

He gave the commission the PINs for the BlackBerry phones used by himself and Haqqani and handed over some evidence to the secretary of the commission, who is in London to supervise the deposition.

Ijaz also provided details of his contacts with Pakistani leaders, including ISI officials.

He said he had met then ISI chief Gen Ehsan-ul-Haq in Brussels in 2003 and former military ruler Pervez Musharraf in London in 2005.

He said he had last met Zardari in 2009.  Ijaz also said he met current ISI chief Lt Gen Ahmed Shuja Pasha in a London hotel last year.

He acknowledged that he currently had few contacts with Pakistani leaders.

Ijaz came to the Pakistan High Commission in London to record his statement via videoconferencing while the three-judge commission conducted the proceedings from Islamabad.

Ijaz, the main accuser in the memo scandal, had earlier refused to travel to Pakistan to record his testimony due to security concerns.

In Islamabad, Attorney General Anwar-ul-Haq told the commission it would be necessary to conduct forensic tests on the BlackBerry messages that Ijaz had produced to support his claims.

Haq said the commission's secretary, who was in London, was not an expert on electronic devices and could not verify the authenticity of the BlackBerry messages. 

Haq further said Research In Motion, the Canadian service provider for BlackBerry phones, had refused to provide data of purported conversations between Ijaz and Haqqani. 

Ijaz said RIM had told him that it did not preserve data of communications on its servers for more than three months.

Zahid Bukhari, the counsel for Haqqani, objected to Ijaz's behaviour during his deposition and said he was constantly "playing" with his BlackBerry phone. 

Bukhari said objections would be raised later about the way Ijaz's statement was being recorded.  "This is not how testimonies are recorded," he said.  Earlier in the day, Ijaz drove to the Pakistan High Commission in a cab.

He told reporters before going inside that he would tell the truth and expose the reality about the memo.  After taking a vow to tell the truth, Ijaz informed the commission in response to a question that he could not speak Urdu.

A team of lawyers representing PML-N chief Nawaz Sharif, who had petitioned the apex court over the memo, is in London to cross-examine Ijaz.

Haqqani's lawyer could not travel to Britain as he was issued a visa late yesterday.

Reports said Ijaz's deposition was expected to continue tomorrow.

Two large plasma screens were installed in a room at the Islamabad High Court complex for the proceedings of the judicial commission.

Haqqani was forced to resign as Pakistan's envoy to the US after Ijaz made public the alleged memo in October last year.  Ijaz has repeatedly claimed he drafted and delivered the memo on Haqqani's instructions.

The government and Haqqani have dismissed Ijaz's claims.  Prime Minister Yousuf Raza Gilani had recently criticised the handling of the memo issue by the army and ISI chiefs.