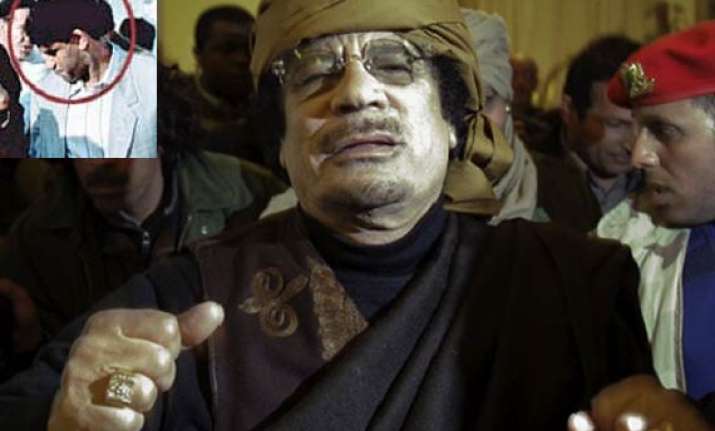 Tripoli, Nov 21 : Moamer Gaddafi's spymaster Abdullah Senussi was arrested on Sunday , Libyan officials announced and said that the dead dictator's son captured the previous day would face trial in Libya.

Ignoring world pressure, Libya's interim rulers insisted that Seif al-Islam, Kadhafi's one-time heir apparent, would be tried inside Libya rather than at the International Criminal Court at The Hague.

World powers, fearful that Seif would not be given a fair trail after his father was felled by a bullet to the head after being captured exactly a month ago, are urging Libya to work with the ICC.

The court wants to try the 39-year-old for crimes against humanity allegedly committed by Kadhafi's forces in crushing anti-regime protests in February.But the NTC insists that Seif will face trial at home."
The decision is that he will be tried by Libyan courts. It is a question of national sovereignty," NTC vice chairman and official spokesman Abdel Hafiz Ghoga told reporters.

Interim justice minister Mohammed al-Allagui earlier told AFP Kadhafi's son would be tried in Libya "because local justice is the rule and international justice is the exception.""We have the necessary guarantees for a fair trial, especially after the amendment of a law that guarantees the independence of the judiciary as regards the executive," he said.

On Saturday, the ICC said Libya must hand Seif over but held out the prospect of a trial in Tripoli.ICC spokesman Fadi Al-Abdallah told AFP Libyan authorities were obliged to cooperate with the ICC and surrender him to the court as required by the UN resolution on Libya.

"If they want a trial in Libya, they must submit a request for dismissal and procedures in Libya must be conducted on the same charges as those contained in the warrant of the ICC," Abdallah added.

Asked about the ICC's comments, Allagui said: "We will reach agreement with the ICC, in conformity with the laws in force."After three months on the run, Seif was caught in Libya's far-flung Saharan south early on Saturday in a trap set by a Zintan brigade of militiamen loyal to the new regime.  Ex-spy Senussi was captured in the south on Sunday, officials said.

Bashir Uweidat, who heads the southern Wadi Shati military council, said Senussi "did not put up any resistance" and was arrested by former rebels in his sister's home in the Al-Guira region.Ghoga confirmed the arrest of Kadhafi's brother-in-law, who is also wanted by the ICC.

The court issued warrants on June 27 against Seif, 39, Kadhafi and Senussi on charges of crimes against humanity.In particular, it accused Senussi, 62, of being an"indirect perpetrator of crimes against humanity of murder and persecution based on political grounds" committed in Benghazi from February 15 until at least February 20.

Senussi has been described by the ICC as "one of the most powerful and efficient organs of repression of Moamer Kadhafi's regime."
He is also wanted in France where a Paris court sentenced him in absentia to life in 1999 over an attack on a French UTA airliner a decade earlier that killed 170 people. 
World powers have repeatedly urged Libya's new rulers to respect international norms in dealing with prisoners amid reports of abuse, and are now urging the NTC to cooperate fully with the ICC.