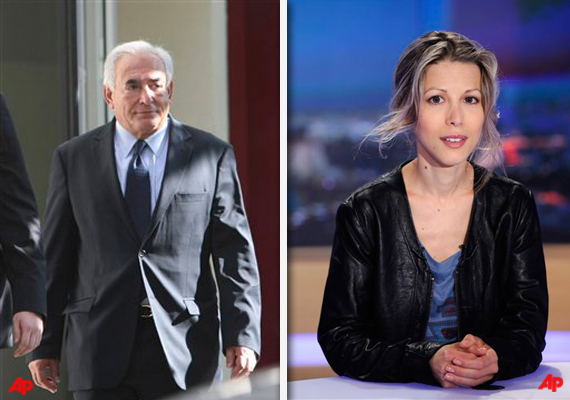 Paris, Oct 14: The Paris prosecutor's office on Thursday dropped its investigation into a writer's claim that Dominique Strauss-Kahn tried to rape her, though it said the former IMF chief admitted to behavior that could qualify as sexual assault.

In a dramatic legal twist for the high-profile Strauss-Kahn, the prosecutor said it couldn't put Strauss-Kahn on trial for the lesser sexual assault charge because the incident occurred too long ago. The statute of limitations on that charge is three years; on attempted rape it's 10 years.

During questioning into the French case, Strauss-Kahn admitted to what prosecutors described in a statement as sexual assault against writer Tristane Banon, during a 2003 interview for a book she was writing.

"While for lack of sufficient elements of evidence, prosecution cannot be undertaken on the charge of attempted rape, facts that could be qualified as sexual assault have been acknowledged," the prosecutor's office said in a statement.

Strauss-Kahn's lawyer, Henri Leclerc, told The Associated Press that the ex-IMF chief admitted that he tried to kiss Banon without her consent and she refused.

He admitted no assault, no violence of any kind," Leclerc said. He said he didn't understand how the prosecutor could have interpreted the attempted kiss as sexual assault.

Under French law, sexual assault is an attack that does not involve an attempt to penetrate the victim.

The announcement marked a victory for Strauss-Kahn—known as DSK in France—but revived questions about his behavior toward women.

The suave and married economist saw his reputation and French presidential ambitions dashed when he was jailed in New York on charges he tried to rape a hotel maid earlier this year. Prosecutors later dropped that case, too.

Strauss-Kahn, considered a top contender for France's presidency before his New York arrest, admitted to what he called an inappropriate sexual encounter with the hotel maid.

He called it a "moral failing" but insisted there was no violence.

He called French writer Banon's attempted rape claim imaginary and slanderous, insisting in a televised interview last month that "no act of aggression" had taken place between the two. He did not say anything about an attempted kiss.

Banon has said that Strauss-Kahn invited her to an empty apartment for the book interview, and they ended up tussling on the floor, with the politician trying to open her jeans and bra and putting his fingers in her mouth and underwear.

Banon's lawyer, David Koubbi, said Strauss-Kahn benefited from an "extremely short statute of limitations" and that Strauss-Kahn still faces "a legitimate suspicion about his behavior toward women."

While "extremely disappointed" that the attempted rape probe was dropped, Koubbi told AP Television News that he's satisified that "the prosecutor recognized in a very clear way that DSK is a sexual assailant."

Koubbi said that other women had told him they were also victims of Strauss-Kahn's sexual behavior but were afraid to testify.

Banon filed her complaint in France in July, after doubts about the New York maid's credibility emerged.

Banon has defended her decision not to file charges against Strauss-Kahn at the time of the alleged incident. In 2003, she was 23 years old and Strauss-Kahn was a respected senior member of France's Socialist party, and her own mother advised her against filing a complaint.

The New York maid, Nafissatou Diallo, has filed a civil suit. Banon has said she would do likewise if Paris prosecutors decided not to go forward with a criminal case.

One of Diallo's lawyers, Douglas Wigdor, said the French prosecutors were swayed by the New York prosecutor's decision to drop the U.S. case.

"We have supported and believe that Ms. Banon was sexually assaulted by Mr. Strauss-Kahn and are pleased that the prosecutors in Paris, as has been reported, have found evidence supporting a sexual assault," he said in a statement.

The Associated Press does not generally name accusers in sexual assault cases unless they agree to be named or identify themselves publicly, as Banon and Diallo have done.

The prosecutor's announcement comes as voters are gearing up to choose the candidate from Strauss-Kahn's Socialist Party for next year's elections.

Until May, he had been seen as the party's best hope at unseating conservative President Nicolas Sarkozy.

While Strauss-Kahn has not said whether he'll return to politics, his allies welcomed the end of the criminal probe.