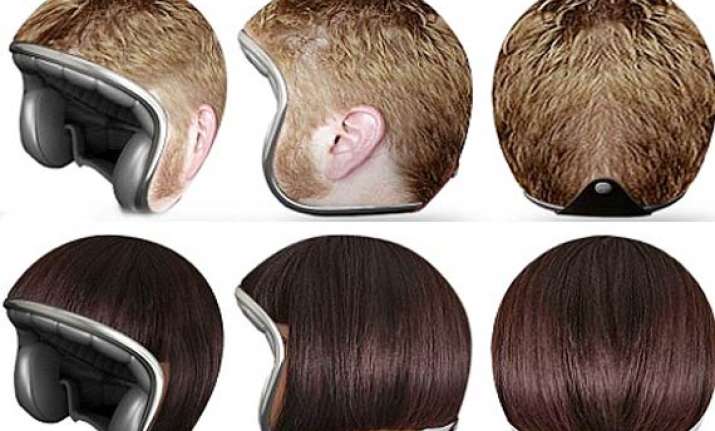 London, Aug 12: A team of designers from Kazakhstan have come up with a line of wacky helmets that are bound to turn heads of all (including the traffic policemen) while you ride your bike, reports The Daily Mail. 
They include a full head of red hair - complete with ears - a brown bob-style and a bald head sporting an earring in the ear.

Or riders can go without hair at all and wear the brain helmet.




But the more game might prefer one from the more adventurous range - including the pert bottom or a breast with a dangling nipple ring.

Other designs include a cracked walnut, watermelon, 8 ball, bubble-wrap, tennis ball, globe or bowling ball.

The designs were created by marketing agency Good! in Almaty, Kazakhstan.




The company is now hoping to find a firm to manufacture them after being inundated with calls from bikers wondering how they could get their hands on them.

Rimma Fhevtfova, of Good! said: 'We wanted to make something unusual. We wanted to make something that is outside the box and to try and think differently.

'There is a growing cycling scene in Kazakhstan. It is much better than it was two years ago so we want to tap into that.




'In the market, there are limited designs and producers and very few customers are using handmade or tailor made helmets of different styles.'





Bikers in Central Asia and Kazakhstan may get their hands on the helmets soon, the rest of the world will have to wait.


 

Designer Renat Abdrakhamov said: 'There are no real helmets yet, just the design. But once hundreds of thousands of people showed interest in the product we starting thinking about production.'