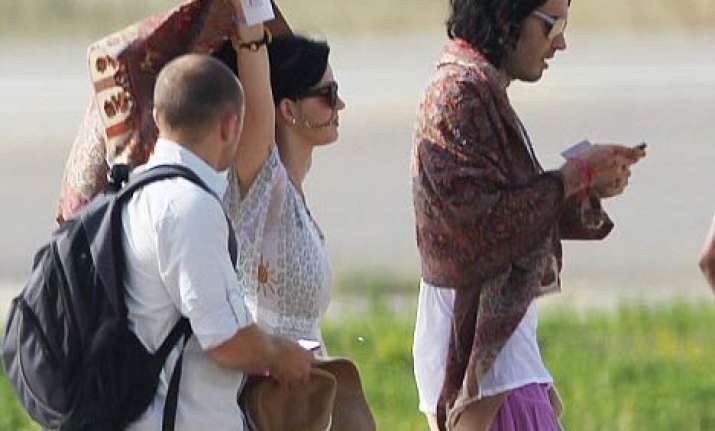 Singer Katy Perry and British comedian Russell Brand headed from India for Maldives to  spend their honeymoon after a lavish, fat Hindu wedding in the forests of Ranthambhore, Rajasthan. The daily Mail, London on Tuesday published the first pictures of the couple heading for their honeymoon.
 
The happy couple appeared to be dressed in Indian-style clothing as they took a helicopter ride to Jaipur's airport, where they then boarded a private jet for their honeymoon.Following five days of celebrations with their family and friends, the pair are believed to be heading off to the Maldives for some alone time.

Their nuptials aren't the only cause for celebration - Perry turns 26 today.Also spotted at Jaipur airport were Katy's parents Mary and Keith Hudson and comedian David Baddiel with his girlfriend Morwenna Banks and their two children.The couple, who started dating 13 months ago, married in a ceremony combining both Indian and Christian tradition near the Ranthambhore tiger sanctuary in Rajasthan.
 
The bride walked down the aisle in a dove grey Elie Saab gown with a nath - an Indian bridal nose ring hanging across her right cheek.
Although tradition says it is removed by the groom on the wedding night - to symbolise the ending of the bride's virginity, Katy was still wearing it as she headed off on honeymoon.The couple's representatives confirmed: 'They were pronounced Mr. and Mrs. Brand on Saturday, October 23.
 
'The very private and spiritual ceremony, attended by the couples' closest family and friends was performed by a Christian minister and longtime friend of the Hudson Family. The backdrop was the inspirational and majestic countryside of Northern India.' 

Days before tying the knot, Perry posted a plea for privacy on her Twitter page: 'Greatest gift you can give us is respect and love during this private time... Thank you for this...'
Despite rumours they were planning to sell photos of their wedding day to a weekly magazine, Brand's spokesperson insisted they would remain private.The spokesperson told MailOnline: 'I can confirm there is no deal with OK Magazine or any other publication.'
 
Russell told New York magazine ahead of the ceremony that the couple wanted to keep their big day an intimate affair, with only their close friends and family attending - and added they wouldn't be signing a pre-nuptial agreement either.He said: 'Really, love between two people is the most spectacular and ordinary thing in the world.
 
'I want to make our wedding just about me and her loving each other and we're getting married in front of our friends and family and keeping it normal.'So it ain't selling the pictures, ain't doing no pre-nup.'