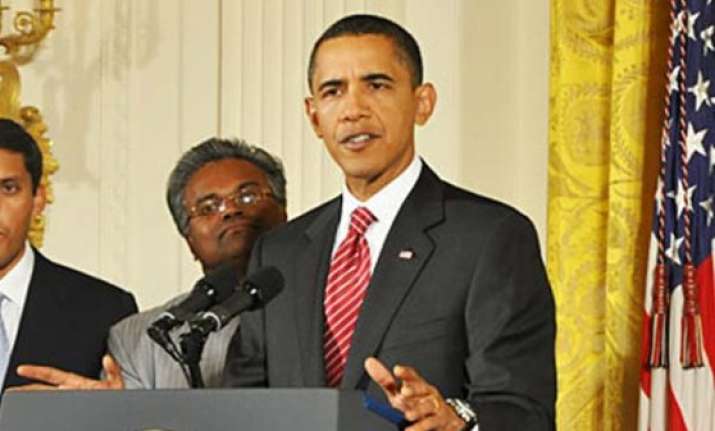 Washington: US President Barack Obama greeted Hindus, Jains, Sikhs and Buddhists across the world on the occasion of Diwali, saying it was a chance to remember that even in the midst of darkness, light will ultimately prevail.
"I want to wish a Happy Diwali to all those who are celebrating the festival of lights here in the United States and around the world," Obama said in his Diwali message.
In 2009, Obama became the first US President to celebrate the festival, a time of rejoicing for many in the Asian American and Pacific Islander (AAPI) community and across the world.
"For Hindus, Jains, Sikhs and Buddhists, lighting the lamp -the diya- is a chance to remember, even in the midst of darkness, that light will ultimately prevail. Knowledge will defeat ignorance, and compassion will triumph over despair," he said.
"Diwali is also a reminder that we must each do our part to achieve that victory, by dedicating ourselves to service to others. If we affirm our commitments to one another and strive to lift each other up, then together, we will continue moving closer to that brighter future we all seek," he added.
America is a great and diverse nation, strengthened by the contributions of its entire people, he said, adding, he was proud to host the first Diwali celebration at the White House in 2009.
"Since then, we've continued to mark this holiday to honour the rich traditions that define the American family. And I know Michelle and I will never forget the wonderful time we had celebrating Diwali in Mumbai with food, dancing, and the company of friends," Obama said.
"So, to all the families gathering together this Diwali to reflect on all the blessings of the past year, I wish you a joyous celebration and Saal Mubarak," Obama added.
This year Secretary of State John Kerry would host the annual Diwali celebration of the Obama Administration.
It would be held at the historic Benjamin Franklin Room of the Department of State.
Kerry will be joined on stage by the Indian Ambassador to the United States S Jaishankar, the State Department said on Wednesday.
Following their remarks, Kerry and Jaishankar will light a traditional Diwali oil lamp.
A local Hindu priest from the Sri Siva Vishnu temple will preside over the ceremonial lighting and will drape Kerry with a traditional shawl.
In his remarks Kerry will celebrate the important contributions Indian and South-Asian Americans have made to the United States, and highlight the State Department's commitment to human dignity, compassion, and service – a commitment that is at the heart of all great faiths, a media release said.