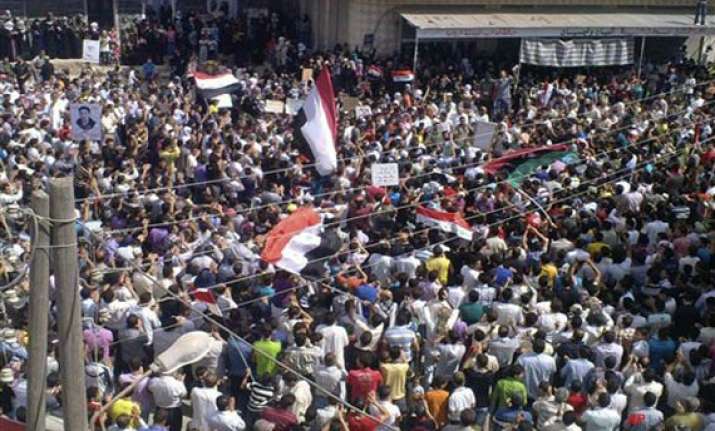 Damascus, Oct 13 : The Syrian army met armed resistance in two towns today, with activists reporting 19 killed in clashes, as the EU decided on a new set of sanctions on President Bashar al-Assad's regime. 
The Syrian Observatory for Human Rights, updating an earlier toll, said 10 people were killed in Banash town in Idlib province in the northwest.

"The Syrian army backed by tanks and armoured troop carriers launched an assault this morning on the town of Banash and clashes took place with armed men who were apparently dissidents," the rights group said.  The Observatory said the army also launched an attack on Taum village, to the east.

"Several houses were partly destroyed and people were wounded... while the noise of heavy machineguns and explosions could be heard in several parts of the town and ambulances seen racing through the streets," it said.  In the southern province of Daraa, armed men—also apparent defectors—killed nine soldiers, one of them an officer, the Observatory said.

It said 25 civilians were arrested, including 12 members of one family.

In Brussels, the European Union decided to freeze the assets of the Commercial Bank of Syria, in a new set of sanctions over the regime's brutal crackdown on protesters, diplomats said.

"Today's decision is a direct consequence of the appalling and brutal campaign the Syrian regime is waging against its own people," said EU foreign policy chief Catherine Ashton.