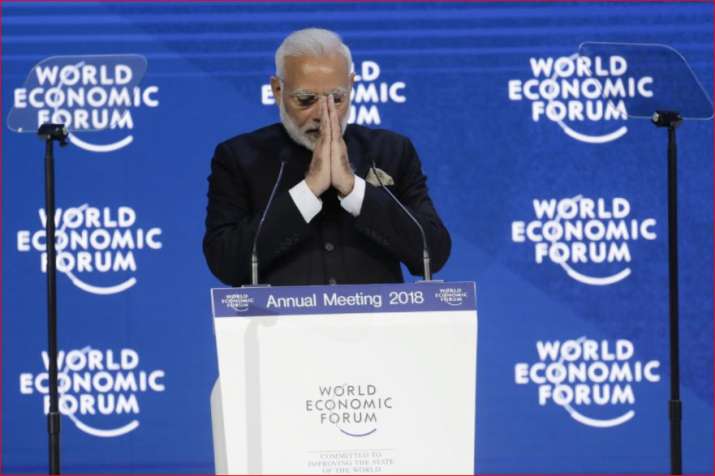 In what has been termed as his "historic" address at World Economic Forum (WEF) Summit in Davos, Prime Minister Narendra Modi today counted climate change, terrorism and impediments to globalisation among major challenges that the humanity is facing today.
PM Modi, the first Indian prime minister to address plenary session of WEF Summit, asserted that  terrorism is dangerous but what is equally dangerous is the "artificial distinction" made between 'good terrorist' and 'bad terrorist'. 
"Three biggest global challenges to humanity are - Climate change,  Some nations distinguishing between good and bad terrorists and Challenges to globalisation and openness," PM Modi said.
Also Read: 'If you want wellness with wealth, come to India': 40 Key Highlights of PM Modi's opening address at WEF 2018 summit in Davos
He also said India's position on the menace of terrorism is well known and he would not like to elaborate on that.  The prime minister, who arrived here yesterday, said issues of peace, security and stability have emerged as serious global challenges. 
The prime minister also noted that the last time when an Indian prime minister came here in 1997, India's GDP was a little more than USD 400 billion, but now it has increased more than six-times.  
Referring to WEF's theme of 'Creating a shared future in a fractured world', he said the Indian philosophy of 'Vasudhaiva Kutumbakam' (the world is one family) has become more relevant in today's time to address fissures and distances in the world.
Also Read: Rahul Gandhi takes a jibe at PM Modi after his Davos speech, asks him to explain why 1% of population gets 73% of wealth
Pitching for India as a global destination for investment, Prime Minister Narendra Modi cautioned the world against growing protectionism and rise in tariff and non-tariff barriers that are impeding global trade. 
Modi said there was a need for reform of the international institutions for economic and political security in keeping with the ground realities.
Speaking about India, Modi emphasised on the reforms brought by his government in the last three years saying the government had replaced red tape with red carpet and laid the roadmap for transformative change.
Also Read: Modi at WEF 2018 in Davos: PM's speech a matter of pride for all Indians, says Amit Shah
"Today investing in India, travel to India, work in India, manufacture in India, production and exports from India to the rest of the world is easier than before as we have decided to eliminate the 'licence-permit raj' and finish the red tape." 
The Prime Minister said now in India foreign direct investment was possible in more than 90 per cent of the sectors through the automatic route. In the last three and a half years, the government has abolished 1,400 outdated laws.
Projecting democracy, demography and dynamism as instruments that were helping India in development, he said all his welfare schemes were aimed at uplifting all sections without any discrimnation and "development for all as its motto".
Also Read: Key highlights in PICS: PM Modi delivers opening address at World Economic Forum in Davos
"These reforms have given the youth an impetus to work for making India a $5 trillion economy by 2025." he said. Innovation and entrepreneurship were giving the youth opporutnities to turn job givers rather than being job seekers.
Modi is the first Prime Minister from India to participate in a forum meeting in two decades after H.D. Deve Gowda in 1997.
Modi said many societies and countries were becoming self-centred. "It seems globalization, opposed to its definition, is shrinking. Everybody talks about inter-connceted world, but it seems globalisation is fading.
"We believe progress and development can be truly called development when everyone can partake in it."
This is Modi's second visit to Switzerland in nearly two years. He will interact with 120 members of the International Business Council, which is a part of the WEF.
Modi, in the course of his 24-hour visit to Davos, is also scheduled to hold a meeting with Sweden Prime Minister Stefan Lofven.
Watch PM Modi's full speech at WEF Summit, Davos
(With agency inputs)