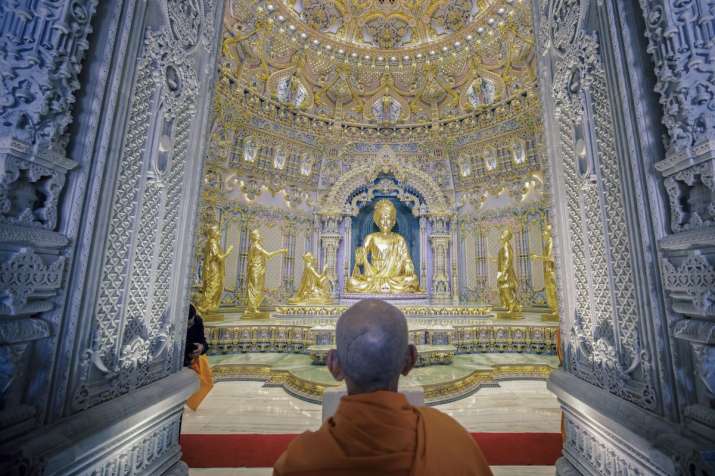 Prime Minister Narendra Modi will today flag off the foundation stone laying ceremony for the first Hindu temple in Abu Dhabi. It will be a historic event as the temple will not only be the first traditional temple in the Arab world but will also be a massive spiritual ground for people of all faiths to converge and understand the Hindu religion. 
Here are the 10 things to know about first Hindu temple in Abu Dhabi:
The temple will be completed by 2020, and open to people of all religious backgrounds. It will be the first traditional Hindu stone temple in the Middle East.
It will be hand-carved by Indian temple artisans and assembled in the UAE. 
The temple is being built by Bochasanwasi Shri Akshar Purushottam Swaminarayan Sanstha (BAPS), a socio-spiritual Hindu organisation set up in 1907 that runs more than 1,100 temples and cultural compounds around the world.
The temple will incorporate all aspects and features of a traditional Hindu temple as part of a fully functional, social, cultural and spiritual complex. 
The Abu Dhabi temple will replicate the BAPS Akshardham temple in New Delhi and the one under construction in New Jersey.
Also read: PM Modi to witness foundation stone ceremony for first Hindu temple in Abu Dhabi
The temple will be open to people of all beliefs and backgrounds, races and religions, the temple will be a part of the UAE's mission of happiness and harmony by helping to foster love, tolerance, understanding and peaceful coexistence, the statement said.
It will serve the more than 3.3 million Indians residing in and the millions of international tourists annually visiting the UAE through interfaith dialogue, pluralism and universal human values.
Expected to be completed by 2020, it will also include a visitors' centre, prayer halls, exhibitions, learning areas, sports area for children and youths, thematic gardens, water features and a food court, the statement said.
The temple is being built near Al Rahba off the Dubai-Abu Dhabi Sheikh Zayed Highway and will cover the massive land space of 55,000 square metres.
The groundbreaking ceremony will be live-streamed into Dubai Opera House, where Indan community will witness the event en masse. It's going to be tradition meeting technology, an Indian diplomat said.