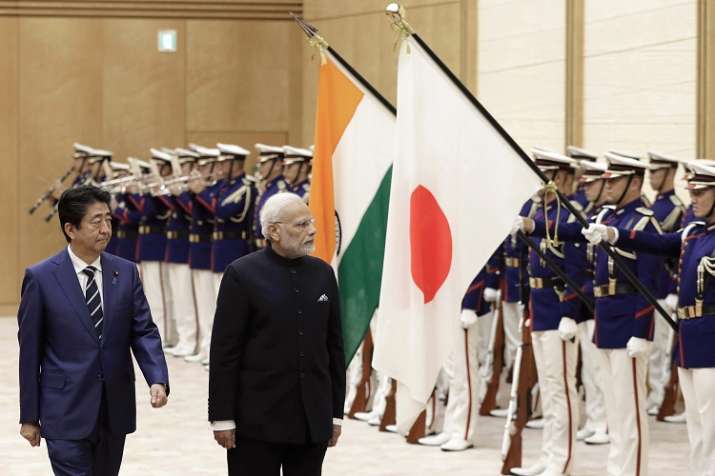 Prime Minister Narendra Modi on Monday held talks with his Japanese counterpart Shinzo Abe, following which six agreements, including on a high-speed rail project and naval cooperation between the two nations were signed. The two leaders also discussed a range of bilateral, regional and global issues including the situation in the Indo-Pacific region.
During the 13th annual summit, both the leaders agreed on working together for a rules-based and inclusive world order that fosters trust and confidence by enhancing communication and connectivity to ensure rule of law, unimpeded trade and flow of people, technology and ideas for shared prosperity.
They also agreed to hold a 2+2 dialogue between the Foreign Ministers and Defence Ministers of the two countries.
"We both agree that from digital partnership to cyberspace, health, defence, ocean to space, in every field we will strengthen our partnership," Prime Minister Modi said after the talks.
Progress made on the Mumbai-Ahmedabad High Speed Rail project was also reviewed during the meet. The two sides signed an agreement on yen loan for the project.
The two sides also signed an agreement on the implementing arrangement for deeper cooperation between the Indian Navy and the Japan Maritime Self-Defense Force (JMSDF).
On Sunday, leaders of both the nations had discussed ties between the two countries and ways to deepen strategic dimension of the bilateral relationship.
PM Modi asks Japan's MSMEs to explore business opportunities in India
Prime Minister Narendra Modi, who is Tokyo to attend the 13th India-Japan annual summit, said the ease of doing business was his top priority.
"Some years ago, I spoke about making a mini-Japan in India. It's a matter of great happiness for me that today, you are working in an even larger number in India," the prime minister said while addressing 'Make in India: India-Japan Partnership in Africa and Digital Partnership' seminar in Tokyo on Monday.
"Now India has reached 100th position and we are working towards better ranking," he added.
He said the Indian government was making all efforts to change the country's business environment and ensure that there is ease of doing business and ease of living.
Low cost manufacturing and competitive labour cost make India more favourable for doing business.
"Our software industry is very powerful. As I said earlier if we combine our software and your hardware, we can do a miracle in the world," he said.
Prime Minister Modi further said the cooperation between the two nations will be very beneficial in the field of electric mobility.
"We are doing wonderful work in infrastructure sector. Our emphasis is now on next generation infrastructure. We are trying to develop such a competitive economy which would be based on skill, speed and scale," Modi said.
Modi invited Japanese businesses to accelerate the pace of investment in India and said, "I always speak of a strong India, strong Japan."
Modi had earlier asked Japanese businessmen to engage more with India as he interacted with top business leaders from the two countries at a forum.
The inputs offered at the Business Leaders Forum will propel India to achieve global benchmarking, he had said.
External Affairs Ministry spokesperson Raveesh Kumar took to Twitter and said, "He urged Japanese businessmen to engage more with India."
"Participants gave a thumbs up to reform measures initiated by the government and offered suggestions on further improving the start up and innovation ecosystem in India," Kumar said.
WATCH VIDEO: