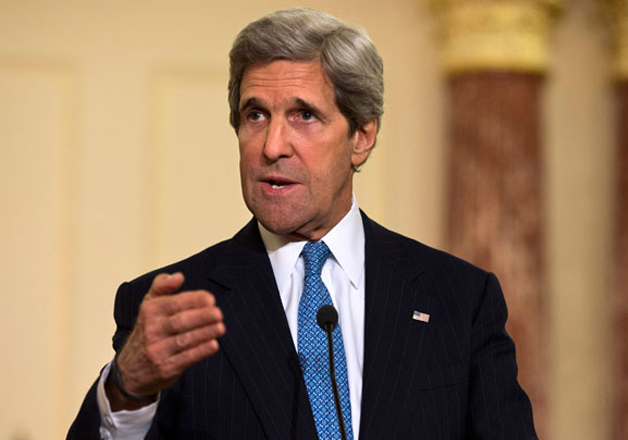 Visiting US Secretary of State John Kerry today said that Pakistan has to do "more work" towards clearing the terror sanctuaries and push harder against "indigenous groups" operating from its soil.
Kerry, who is on a three-day visit here, said that he has discussed with Pakistani Prime Minister Nawaz Sharif the issue of taking stronger action against groups such as the Haqqani network and LeT.
Addressing a session at IIT-Delhi here, he said terror groups like Daesh, Al Qaeda, LeT and JeM can't be fought by a single nation alone.
"We are working on it. I have been working on this issue very hard. I have had many engagements with Nawaz Sharif. We have been talking on the sanctuaries in the western part of the country, how to deal more effectively with the Haqqani network and the LeT. It is clear that Pakistan has work to do in order to push harder against its indigenous groups that are engaged in terrorist activities. They must work with us to help clear sanctuary of bad actors who are affecting not only India-Pakistan relationship but also our ability to achieve peace and stability in Afghanistan," Kerry said.
Yesterday, India and the US reasserted the urgent necessity for Pakistan to dismantle safe havens for terrorist groups and criminal networks and said there can be no difference between good terrorists and bad terrorists.
Speaking to media after holding talks with his Indian counterpart Sushma Swaraj, Kerry endorsed India's stance of linking future talks with Pakistan to action on terrorism.
He also said that Washington continues to support all efforts to bring the perpetrators of the Mumbai and Pathankot terror attacks to justice.
"Let me be clear... United States continues to support all efforts to bring the perpetrators of Mumbai and the Pathankot attacks to justice and we cannot and will not make distinction between good and bad terrorism. Terror is terror no matter where it comes from and who carries it out," he said.
With Agency Inputs