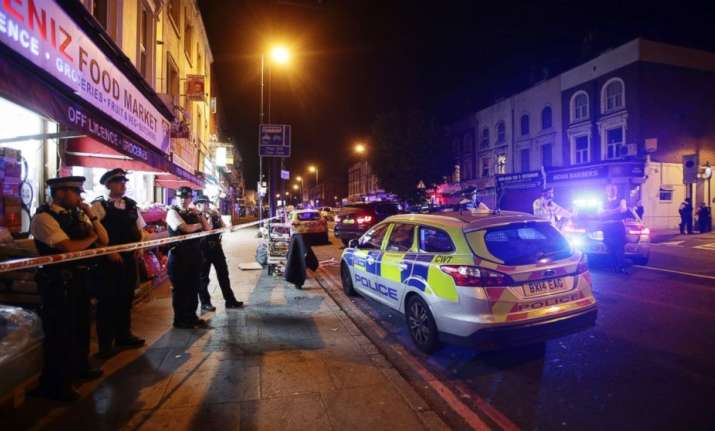 A 47-year-old suspect who was arrested at the scene of an alleged terror attack that killed one person outside a London mosque has been identified as Darren Osborne. The suspect, who grew up in Somerset and is father of four, was living in Cardiff, Wales. British Security Minister Ben Wallace said authorities were aware of rising far-right activity but the suspect was not known to them prior to the attack.
Osborne was caught on mobile phone video images captured during his arrest. He was held by a crowd who had witnessed him drive a van into a crowd of worshippers outside a north London mosque early Monday, injuring at least nine people.
Police are treating the incident as a terror attack. One man died at the scene, although he had been receiving first aid at the time and it wasn't clear if he died as a result of the attack or from something else. Police said the incident was "clearly an attack on Muslims".
Police said the attacker who drove the van has been arrested on suspicion of the commission, preparation or instigation of terrorism, including murder and attempted murder. A mob surrounded him and witnesses said the crowd began attacking him. A local imam, Mohammed Mahmoud, said he organized a group of people and shielded the man until police could take him away.
"By God's grace, we were able to protect him from harm," he said.
The Metropolitan Police Service immediately announced it was putting extra patrols on the streets to protect the public.
The attack outside the Muslim Welfare House in Finsbury Park follows three Islamist-inspired attacks over the past three months that have triggered a surge in hate crimes around Britain.
The van struck the faithful as they emerged from a mosque in Finsbury Park after attending evening Ramadan prayers at the Muslim Welfare House that also acts as a community centre, the BBC said after broadcasting footage of the alleged attacker being led to a police van following the incident.
Prime Minister Theresa May on Monday called the incident a "terror attack" and "every bit as sickening" as recent attacks to hit the UK, adding that the driver acted alone 
"Hatred and evil of this kind will never succeed," she said.
Police will assess the security of mosques and provide any additional resources needed ahead of celebrations marking the end of the holy month of Ramadan, May announced.
"This was an attack on Muslims near their place of worship," she said in a televised address. "And like all terrorism, in whatever form, it shares the same fundamental goal. It seeks to drive us apart — and to break the precious bonds of solidarity and citizenship that we share in this country. We will not let this happen."
Mayor Sadiq Khan, London's first Muslim mayor, urged residents to focus on their shared values and to stand together during an unprecedented period in the capital's history. The attack Monday hits a community already feeling targeted in the fallout from the London Bridge killings and other attacks blamed on Islamic extremists.
"While this appears to be an attack on a particular community, like the terrible attacks in Manchester, Westminster and London Bridge, it is also an assault on all our shared values of tolerance, freedom and respect," Khan said.
Vowing "zero tolerance" for hate crimes, Khan declared "we will not allow these terrorists to succeed ... we will stay a strong city."
British security officials, speaking on condition of anonymity in line with official policy, said hate crimes directed at Muslims have increased nearly five-fold in the wake of several attacks in Britain.
Britain's terror alert level is at "severe," meaning security officials believe an attack is highly likely, and a series of extremist attacks have struck across the country in the last few months.
On June 3, Islamic extremists used a vehicle and then knives to kill eight people and wound dozens of others on London Bridge and in the popular Borough Market area. Police shot and killed the three Islamic extremists who carried out the attack.
In March, a man plowed a rented SUV into pedestrians on London's Westminster Bridge, killing four people before stabbing a police officer to death outside Parliament. He was also killed by police.
To the north, Manchester was hit by a deadly attack May 22 when a suicide bomber killed 22 people at an Ariana Grande concert.
(With agencies)