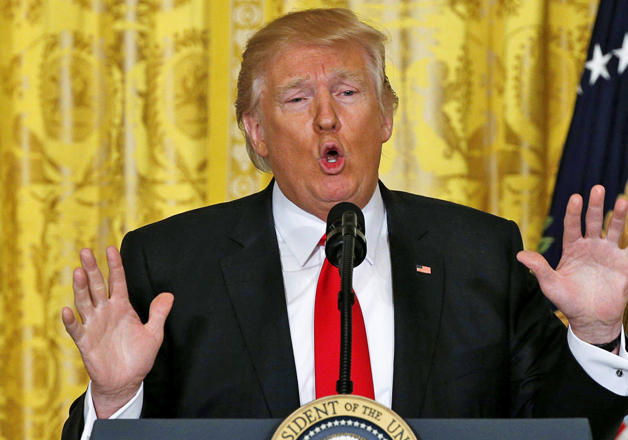 At his first solo news conference here on Wednesday, US President Donald Trump said that the country faces a host of problems at home and 
abroad, declaring: 'I inherited a mess'.
Airing his grievances against the media, intelligence community and his detractors, he said that jobs were leaving the country to Mexico and other places, and mass instability was prevalent overseas. 
"To be honest, I inherited a mess. It's a mess. At home and abroad, a mess. Jobs are pouring out of the country," he said in a news conference that lasted more than an hour.
"I turn on the TV, open the newspapers and I see stories of chaos – chaos. Yet it is the exact opposite. This administration is running like a fine-tuned machine, despite the fact that I can't get my Cabinet approved," Trump added.
Asked about recent reports that Mike Flynn, his former National Security Adviser (NSA) who resigned on Monday evening, had improperly discussed Russian sanctions with the Russian ambassador to the US before Trump was sworn in, the President defended Flynn as a 'fine person', saying he had done nothing wrong in engaging the Russian envoy.
But, Trump said, Flynn had erred by misleading government officials, including Vice President Mike Pence, about his conversations, which is why the president ultimately demanded his resignation.
"He didn't tell the Vice President of the US the facts. And then he didn't remember. And that just wasn't acceptable to me," Trump said.
Trump made clear he had no problem with Flynn discussing the sanctions imposed on Moscow by the Obama administration with the Russian ambassador even if he was not directly told to do so by Trump, saying it was Flynn's job to reach out to foreign officials.
"No, I didn't direct him, but I would have directed him if he didn't do it," he said.
Trump for better relationship with Russia 
Trump was asked several times about whether his campaign had contact with Russia and grew testy as reporters pushed him for a yes-or-no answer.
The president said that he certainly hadn't and that he was not aware of such contacts during the campaign.
"I can tell you, speaking for myself, I own nothing in Russia. I have no loans in Russia. I don't have any deals in Russia. President Putin called me up very nicely to congratulate me on the win of the election. He then, called me up extremely nicely to congratulate me on the inauguration, which was terrific. But so did many other leaders, almost all other leaders from almost all of the countries. So that's the extent," Trump said.
Trump also used the questions to press his case that the United States will be well-served by a better relationship with Russia and to mock his Democratic opponent, Hillary Clinton, for her efforts to 'reset' the relationship between the two countries while she was secretary of state.
Trump derisively referred to that stupid plastic button that made us all look like jerks, a reference to the red 'reset' button that Clinton presented to the Russian foreign minister early in the Obama administration.