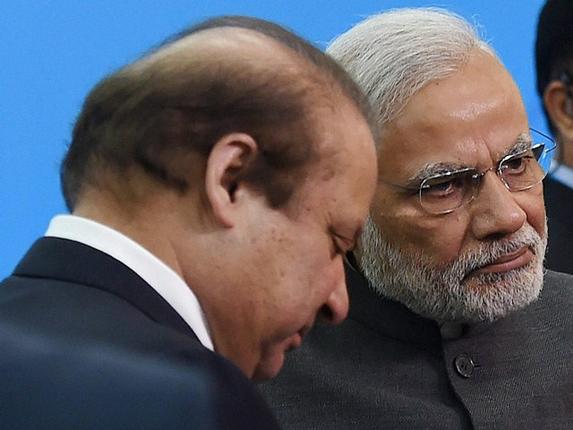 New Delhi/Islamabad: India has categorically rejected the decision by Pakistan's Cabinet to hold July 19 as a black day to protest against the 'barbarism' of Indian security forces and express solidarity with the people of Kashmir.
India has reiterated that it is dismayed by Pakistan's continued attempts to interfere in India's internal matters, over which it does not have any locus standi. 
"India completely and unequivocally rejects in entirety the decisions adopted by the cabinet of Pakistan on the situation in Jammu and Kashmir," a statement by the Ministry of External Affairs read, adding that the neighbouring country's "glorification of terrorists" paints a clear picture of where its sympathies continue to lie.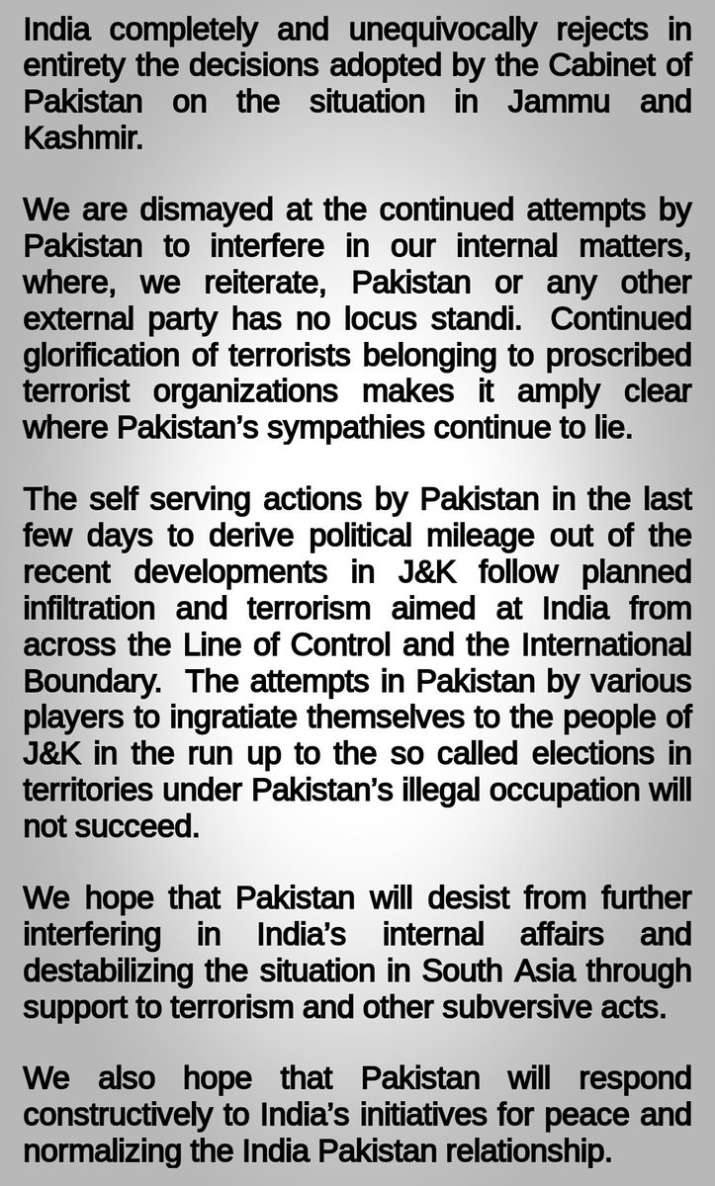 A day after India India said Pakistan is not only pushing in terrorists but also fanning discontent within the Kashmir valley by providing support to terrorist outfits, Islamabad today further needled India on the Kashmir issue.
Pakistan Prime Minister Nawaz Sharif on Friday declared slain Hizbul terrorist Burhan Wani a "martyr" and said July 19 will be observed as a "black day" to express solidarity with people of Kashmir.
Addressing a special cabinet meeting in Lahore to discuss the situation in Kashmir, Sharif termed the "movement of Kashmiris as a movement of freedom". "Pakistan would continue to extend moral, political and diplomatic support for Kashmiris in their just struggle for right to self-determination," the Prime Minister said.
"The Prime Minister termed Burhan Wani as martyr of independence movement," Radio Pakistan reported.
He said, the "Indian brutalities will give impetus to the freedom struggle and Kashmiri people will get their right to self-determination for which the whole Pakistani nation is standing behind them."
Sharif also directed all the relevant departments to highlight the Kashmir issue at international fora. However, Pakistan's attempt to drum up support over Kashmir have been met with condemnation and reprimand globally. 
At a congressional hearing in Washington and the United Nations general assembly on Wednesday, a range of lawmakers, analysts, and diplomats called Pakistan a terrorist entity, said it should be denied foreign aid, and proposed that its leaders, including its military generals, be sanctioned and stopped from traveling to the United States for consistently cheating the world community on terrorism.
Accusing his counterpart of misusing the UN platform with phony concern about human rights, India's permanent representative at the UN Syed Akbaruddin lashed out at Pakistan, calling it "a country that covets the territory of others; a country that uses terrorism as state policy towards that misguided end; a country that extols the virtues of terrorists and that provides sanctuary to UN-designated terrorists."
The Indian government has reacted sharply to Pakistan's interference in the Kashmir matter. Asserting that Wani issue was internal to India, spokesperson for India's Ministry of External Affairs Vikas Swarup said Pakistan has no locus standi in the matter and asked it to refrain from interfering in it.
Asked if there was a shift in Pakistan strategy vis-a-vis Kashmir where one sees increase in number of 'home-grown militants', he said, "It is part of the continued strategy of Pakistan of not only infiltrating terrorists from across the border but also fanning discontent within the valley by providing various support to terrorist outfits."
Terming Pakistan's continued effort to internationalise the Kashmir issue as "a self-serving exercise towards narrow political end", Swarup said the world has a clear view about which country in the region covets the territory of others, uses terrorism as state policy, provides sanctuary to UN-designated terrorists and terror groups and violates human rights.
"Terrorism is terrorism and no amount of justification on part of Pakistan is going to change that," he said.
(With PTI inputs)