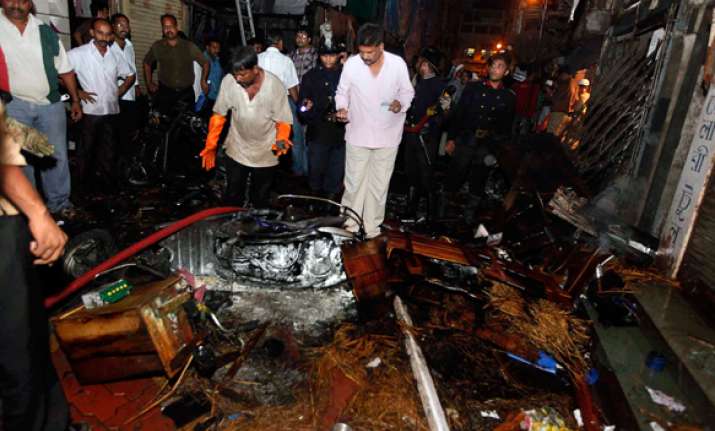 Mumbai, Jul 14 : Zaveri Bazaar, the city's densely crowded jewellery market, was bustling with activity at 6.45 pm on Wednesday evening when the first of the blasts that struck Mumbai went off, leaving seven dead and at least 17 others injured.
The bomb was strapped to a Hero Honda motorbike, parked outside the well-known eatery, Mohan Puddlawala, says an HT reportWithin five minutes, around 6.50 pm, another bomb exploded, this one strapped to a scooter.

The twin blasts at Zaveri Bazaar have caused the worst casualty compared to the explosions at Dadar and Opera House.
 
The blast shattered windowpanes in several shops, so many people had shard injuries.

 
Brothers Saiful and Ahmed, who live in a building close to the spot where the first blast occurred, said: "We initially thought that an LPG cylinder had exploded in the restaurant that occupies the ground floor of our building. We rushed out and only then realised that it was a bomb blast."
 
Even before the police and other agencies arrived, locals had rushed to help, and many of them took the injured to the hospitals closeby. A local, who identified himself only as Mustafa, was completely soaked in blood. "I managed to drive two injured people to GT Hospital on my bike," he said.
 
The police, the disaster management team, the quick response team, the paramilitary force, the bomb disposal squad and the fire brigade all reached the scene of the blast within minutes.
 
Vijay Shah, a shopkeeper from the area, is anxious as he had sent his 25-year-old delivery boy out in the area for some work. "I am worried as he is not responding to my phone calls. I am afraid as he stopped responding after the blasts."
 
Several politicians also hurried to the area. Local BJP leader Raj Purohit said: "This is the third attack in Zaveri Bazaar. South Mumbai, and particularly Zaveri Bazaar, is the economic heart of the city. This is where some of the highest gold and diamond trading takes place. Terrorists have found a way of destabilising the city by attacking at a place where it hurts the most: the economic hub."