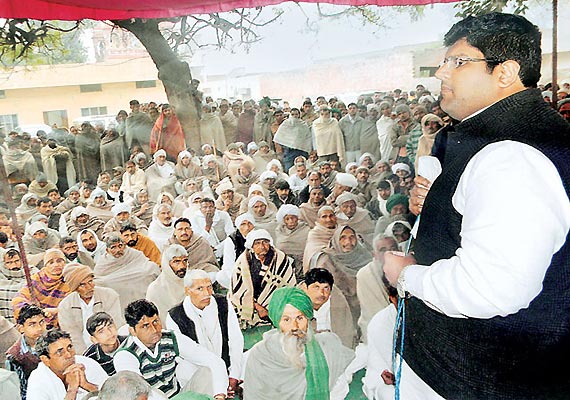 New Delhi: With both father Ajay Chautala and grandfather Om Prakash Chautala behind bars, INLD candidate from Hisar Dushyant Chautala, an alumnus of Lawrence School, Sanawar, is facing an acid test and now banking on help from his uncle and other family members to reach out to voters.  
26-year-old Dushyant is making his debut in Parliament election at a time when he is faced with humongous task of reviving the Indian National Lok Dal, founded by his great grandfather Devi Lal, in the absence of his father and grandfather, both in jail in connection with the junior basic trained (JBT) teachers' recruitment scam.  
Dushyant, who graduated from California State University and is pusuing an MBA degree (global management) from Regents College in London, is up against sitting MP and Haryana Janhit Congress candidate Kuldeep Bishnoi, the younger son of late Chief Minister Bhajan Lal, besides Congress' Sampat Singh, MLA from Nalwa segment, AAP's Yudhbir Singh Khyalia, the bureaucrat-turned-politician. Phool Singh Sheokand (CPM) and Mange Ram Verma (BSP) are also in the fray.  
"This is the first election of my life and my father and grandfather, both are in jail," says Dushyant, alleging it to be a "conspiracy" of the Bhupinder Singh Hooda government in Haryana.
"It is very true that at this moment, I am missing them very much, but making poll strategies under their guidance," he adds.
His uncle Abhay Chautala and some other members of the family are helping in Dushyant's election campaign.