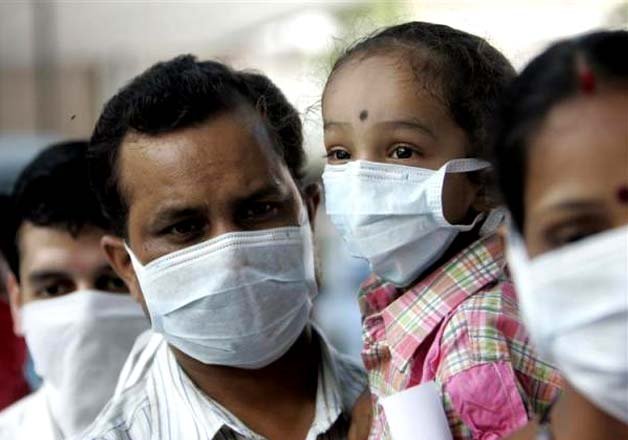 New Delhi: Swine Flu is spreading tentacles and number of deaths is increasing with each passing day.  100 more deaths have been reported over the least three days. With this the death toll has jumped to 585.
The death toll so far in only three states of Rajasthan, Gujarat and Lucknow in Uttar Pradesh has risen to 300 and many more have tested positive to the virus.
Till now 8,423 people have been affected due to swine flu and states like Rajasthan, Gujarat, Madhya Pradesh and Maharasthra are worst affected area. Though Delhi and Tamil Nadu have reported a high incidence of swine flu cases, the death toll in the two states is relatively low due to high level of awareness and better health infrastructure.
ALSO READ: Swine flu: Rajasthan, Maharashtra tourism face Rs 5,500 cr loss
The Centre has ordered additional stocks of medicines and diagnostic kits, hospitals have started running out of Tamiflu and protective masks.
So far, Jaipur has reported 26 deaths due to the H1N1 virus, maximum in the state, followed by Ajmer 24, Jodhpur 16, Barmer and Nagaur 13 each, Kota 9, Chittorgarh 7, Banswara 6, and five elsewhere in the state since January. In Gujarat, 8 more deaths have been reported, taking the death toll in the state to 144.
With more cases of swine flu being reported from Aligarh Muslim University (AMU) in the last 24 hours, authorities on Monday suspended all classes in the university and its affiliated schools till February 25. All events in AMU, including seminars, workshops and meetings of executive council scheduled during this period, have been postponed till further orders as a precautionary measure.
Meanwhile, sources quoted by TOI in several hospitals say that masks and medicine are in short supply. "There are no masks in our hospital.
Doctors are working at a very high risk. There is also hording of vaccines that has raised prices from the usual Rs 750 to Rs 1000," said a source to TOI in a Delhi government hospital.