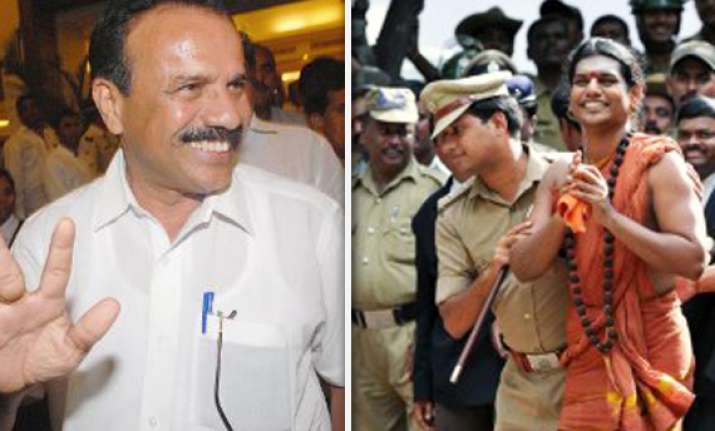 Bangalore, Jun 15: With Nithyananda filing a petition in Karnataka High Court claiming Rs 10 crore from the state for alleged damage caused to his ashram property, Chief Minister D V Sadananda Gowda today said he would not mind going to jail to safeguard the interests of the people. 
"I wouldn't mind going to jail to protect people's interest. I will perform my chief ministerial duty even if there are thousands of cases filed against me," Gowda told reporters here.
Gowda said he did not take any decision against Nithyananda in haste and did it after collecting details about his activities in the ashram.
The Chief Minister said he was performing his chief ministerial duties in the interest of the state and not against an individual like Nithyananda or an institution.  
Self-styled godman Nithyananda, already facing criminal charges, including rape, courted fresh trouble when police on June 8 booked him and his followers for allegedly assaulting a mediaperson at a press meet at his ashram at nearby Bidadi.  
Even as he faced the police action, Nithyananda filed a writ petition in the High Court seeking Rs 10 crore as damages to his ashram property from the state government.  
Besides the Chief Minister, Ramanagar District Deputy Commissioner and others have been named in the petition.  
Hours after being granted bail by a court, Nithyananda was re-arrested yesterday on charges of disturbing the peace.