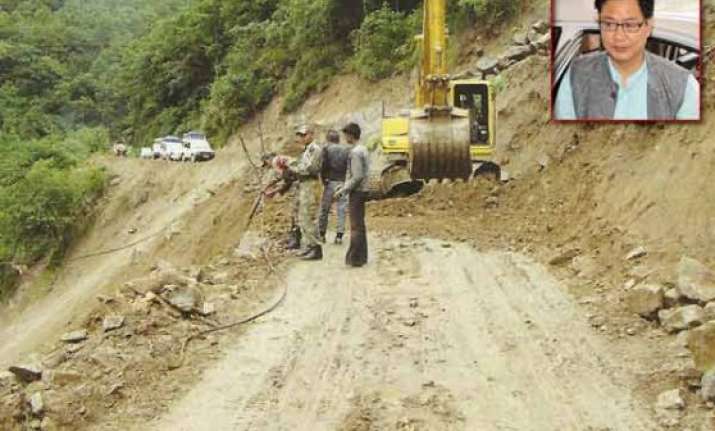 Guwahati: Stating India will go ahead with construction of roads in Arunachal Pradesh along China border, Union minister Kiren Rijiju on Friday said the country has freedom to carry out development works inside its own territory and other nations should not object to it.
"We have to develop our territories, especially those areas which are neglected for too long time. We are going to develop our own region," the Union Minister of State for Home told reporters on the sidelines of Infrastructure Conclave by industry chamber PHDCCI here.
He was responding to a query on China's objection to India's plans to develop border road network in Arunachal Pradesh.
"We are not venturing into others territory. Whatever we are doing it is our territory. It is our domain. We have freedom to do (anything) inside our territory. Other countries should not have any objection when we are not doing anything harmful to them," Rijiju said.
He said India is not doing or not planning to do anything that will challenge any country.
"We are not doing anything which is adverse to the interest of our neighbours. Whatever is being done, it is for our own people and for the connectivity of our own people living in border areas," he said.
Union Home Minister Rajnath Singh yesterday had sent a strong message to China and asserted that no one can warn India.
China had sharply reacted to India's plans to construct a road network along McMahon line from Mago-Thingbu in Tawang to Vijaynagar in Changlang district of Arunachal Pradesh to match China's infrastructure development.
Asked about possible rise in Islamic fundamental activities in Northeast, Rijiju said "any place, any fundamental activities to the extreme is disturbing. We have to contain that kind of forces anywhere in the country. We are checking everything and we are ensuring that it does not go beyond a point... There are reports and we are very careful now."
On increasing cases of racial attacks on people from Northeast in other parts of India, he said "wherever incidents are happening, whether it is Gurgaon or Bangalore or Delhi, we have ensured strict action. We will not spare the culprits. We are making no stone unturned."