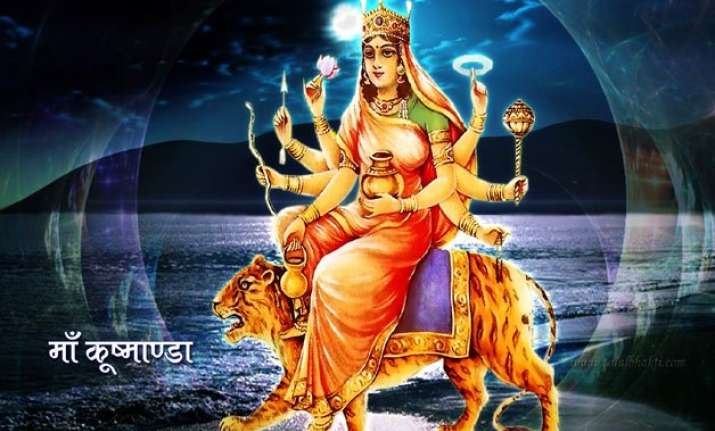 On day 4 of Navratri, Maa Kushmanda is worshipped. She is the fourth incarnation of Maa Durga. With her reverence, we also begin the worship of Mahalaxmi.
If the letters of the name of Maa Kushmanda are broken like "Ku-shm-anda", then it would mean "the cosmic egg".
As per the ancient legends, the creation of universe by Lord Vishnu began with her. It is said that Lord Vishnu, the creator of Universe, was able to create the world when Devi Kushmanda smiled and moved away.
Devi Kushmanda is also known as "Ashtabhuja" as she holds a rosary in her eighth hand which symbolizes her blessings for her devotees. The blessings of the eighth hand are the Ashtasiddhis (8 types of wisdom sources) and Navniddhis (9 types of health).
In her other seven hands, she holds kamandalu, bow, arrow, a jar of nectar, discus, mace and a lotus.
Her 'sawari' – the lion, personifies "Dharma" and she, the one who establishes it.
To appease 'mata Kushmanda', one should chant this mantra –
सुरासम्पूर्णकलशं रुधिराप्लुतमेव च ।
दधाना हस्तपद्माभ्यां कूष्माण्डा शुभदास्तु मे ॥

Surāsampūrṇakalaśaṁ rudhirāplutamēva cha |
Dadhānā hastapadmābhyāṁ kūṣmāṇḍā śubhadāstu mē ||
On should wear Red color on this day and recite Mantra, strotra, Durga stuti and admire the benevolent Devi.
She is the bestower of profound prosperity, good health and material comforts.
The Devi has a golden face and her body radiates like gold. She resides on the core fo the Sun hence controlling the functions of Surya Lok.
One should pray to her with sincere devotionin order to get her showers of blessings.