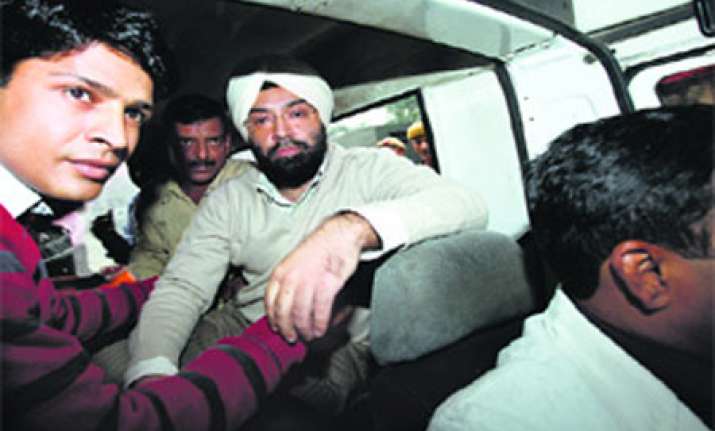 Sanjeev Arora, a top Vodafone official in Delhi informed the tainted Home Ministry official Ravi Inder Singh that his telephone calls were being intercepted, police sources said.
A day after it was revealed that Ravi Inder Singh sought "crores of rupees as bribe and the services of call girls", police is looking into the possible involvement of his wife in the racket, reports Delhi tabloid Mail Today. 
Delhi Police special cell found a bank account in the name of Singh's wife with Rs 15 lakh balance. The police are now probing how a houswife could have so much balance in her account. Also, two more bank accounts in Singh's name, with Rs 42 lakh and Rs 27 lakh balance have been found. 
Ravi Inder Singh and his associate Vinit Kumar, CMD of Temptation Foods Pvt Ltd are in police custody till November 30. 
Police have told the court that around 12,000 telephone conversations of Singh had been intercepted. The IAS officer was using three mobile numbers, all procured using a fictitious identity. This, at a time, when the very same Home Ministry has cracked the whip on all telecom companies to get all post-paid and pre-paid cellphone connections re-verified in view of terror threats. 
Delhi police told special judge Sangeeta Dhingra Sehgal that Singh had been staying in a guest house in Greater Kailash paying a rent of Rs 50,000 accounted for by a private firm. 
The prosecutor alleged that Rs 21 lakh was transferred to an account in Bank of Maharashtra, opened in the name of Singh's wife, using the guest house address. They said the account still had a balance of Rs 15 lakh. 
Singh had stopped using the three mobile phones from November 16 after he came to know from Sanjeev Arora, a Vodafone company executive, that his calls were being intercepted. 
The prosecutor claimed that Singh was to be confronted with 12,000 intercepted calls as he was using code words like 'software' for call girls and 'hardware' for accomodation which he sought. 
The prosecutor told the court that Singh, a director in the internal security division of Home Ministry had leaked information pertaining to US-based telecom company Telcordia. 
Sources said Singh was also using three other numbers bought in the name of Vinit Kumar, who was reportedly fixing deals for his company and Singh.