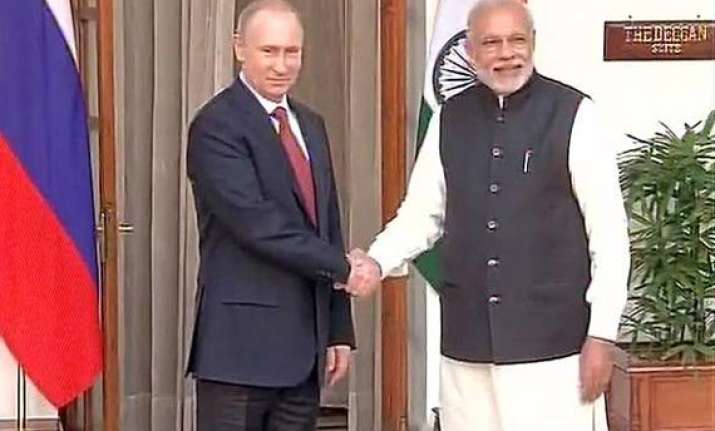 New Delhi: As Russian President Vladimir Putin arrived here Wednesday night, PM Modi and he are likely to discuss resolutions to expand ties in a range of crucial sectors like nuclear energy, hydrocarbons and defence today.
Putin and Modi will deliberate at the Annual Summit here today with an aim to further strengthen the already close strategic partnership.
Putin is likely to seek deeper economic engagement with the "time-tested" ally to negate affect of sanctions against Russia by the US and its Western allies over the Ukraine issue.
Both sides are looking at inking 15-20 pacts following the summit which has been taking place since 2000 alternately in Moscow and New Delhi.
Ahead of his visit, Putin termed ties with India as "privileged strategic partnership" and said construction of new nuclear plants besides military and technical cooperation was high on the agenda for talks. He said Russia was keen to export liquefied natural gas (LNG) to India and involve ONGC in oil and gas hunt in the Arctic.
India is the third largest oil importer after the US and China.
It has been pushing for greater involvement in major gas and oil exploration projects in Russia and both the leaders are set to discuss the issue.
Russia is one of the top oil producers globally and has huge reserves of natural gas.