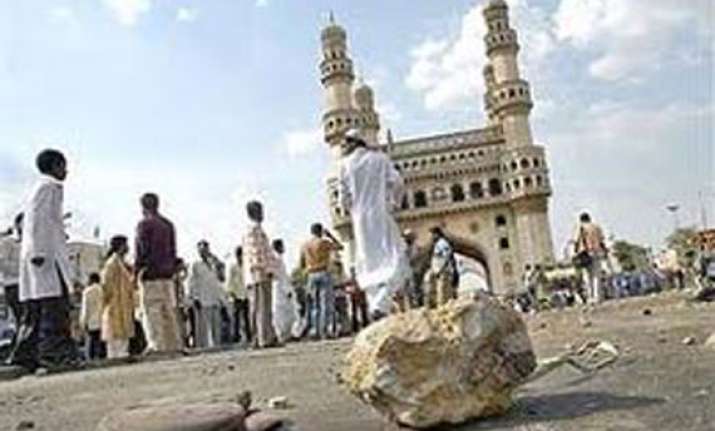 Hyderabad | Nov 16, 2012: Violence erupted in the communally-sensitive Old City area here this afternoon following the Friday prayers, but government claimed that situation was under control by evening.
Andhra Pradesh Home Minister Sabitha Indra Reddy said the situation was under control, and action would be taken against the culprits.
Reddy reviewed the law and order situation with Police Commissioner Anurag Sharma and senior police officers following the violence. "We will identify them (those taking part in violence) from CCTV footages and stern action will be initiated against them," she later said.
Tension prevailed in the Old City today after police lobbed teargas shells to disperse a mob which pelted stones and burnt vehicles near the historic Charminar.
People marched towards Charminar after the Friday prayers. The historical structure has been barricaded, as Old City has witnessed communal tension over the past fortnight.
Some people wanted to hold prayers inside Charminar, were denied the permission, and threw stones at the police.
Two cars and three motor-bikes were burnt, and window panes of several other vehicles were damaged in stone-pelting in various places, police said.
Home Minister Reddy appealed the people to maintain peace and not to believe the rumours. "The situation is now under control and peaceful," she said. "We are taking all precautionary measures to restore peace in Old City, as Hyderabad is known for communal harmony."
A few protesters were taken into custody. There were reports of some policemen and protesters getting injured.
Prohibitory orders were imposed in the troubled areas. Security forces including Rapid Action Force have been deployed near Bhagyalakshmi temple abutting the Charminar.
The trouble started about a fortnight ago when members of a community protested the state government's decision to allow covering of a shed over the temple with a tarpaulin sheet.
Shops and business establishments continued to remain closed in the Old City today, but traffic was normal by evening.