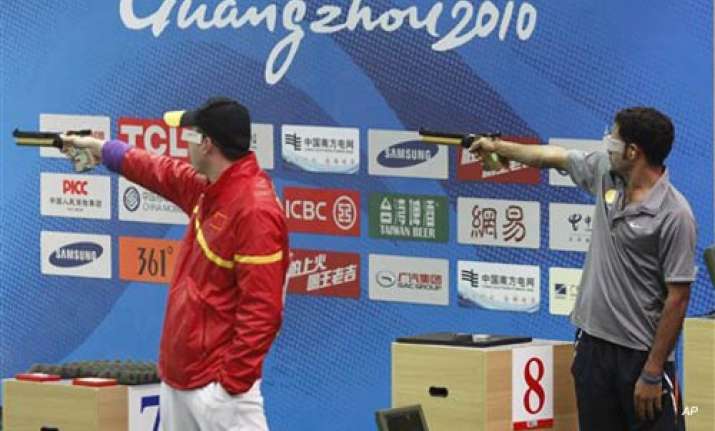 Guangzhou, Nov 18 : Vijay Kumar notched up his second and India's fifth medal in shooting by bagging a bronze in men's 25m center fire pistol even as ace marksman Gagan Narang missed out on a bronze by whisker in 50m rifle 3 positions in the Asian Games here today.
Vijay shot 583 (290+293) to finish third behind South Korea's Park Byung Taek who scored 586 (290+296) and Liu Yadong of China who fired 585 (290+295).The other two Indians in fray in the same event, Omkar Singh and Harpreet Singh finished eighth and 32nd respectively with scores of 580 and 563.
This is Vijay's second medal in shooting, having won a bronze in 10m air pistol individual event.
In the 25m center fire pistol team event, India finished fourth behind China, South Korea and North Korea. The trio of Vijay, Omkar and Harpreet shot 1726, 17 points adrift of gold winners China.Narang, meanwhile, was unlucky today as the star shooter missed the bronze in men's 50m rifle 3 positions event by 0.5 points to Qinan Zhu of China.
Narang finished the event with 1261.8 points, 0.5 points behind bronze medal winner Qinan, who also pipped the Indian to win the 10m air rifle individual gold earlier in the Games.
Incidentally, Narang was the only Indian to have qualified for the finals in men's 50m rifle 3 positions after finishing fourth with a score of 1162 (393 prone+382 standing+387 kneeling).
Two other Indians in fray in the same event, Imran Khan and Sanjeev Rajput finished 13th and 15th respectively with scores of 1150 (377+384+395) and 1146 (394+379+373) respectively.
As if Narang's fourth place finish in the individual category was not enough, India also missed out on a bronze in the men's 50m rifle 3 positions team event after finishing fourth behind China.The India trio of Narang, Khan and Rajput shot 3458 (1176+1138+1144), 13 points adrift of China who scored 3471 (1183+1146+1142).
South Korea won the gold with 3489 points while the silver went to Kazakhstan (3478 points).The Indian also cut a sorry figure in the men's trap event except for Manavjit Singh Sandhu, who finished eighth with a score of 70 (23+24+23) in the qualifier.
Manavjit's compatriots Mansher Singh and Zoravar Singh Sandhu were 18th and 26th respectively with scores of 67 (22+23+22) and 64 (19+22+23).In the team event, the Indian trio of Manavjit, Mansher and Zoravar finished fifth in the qualification round with a total score of 201 (70+67+64) points.PTI