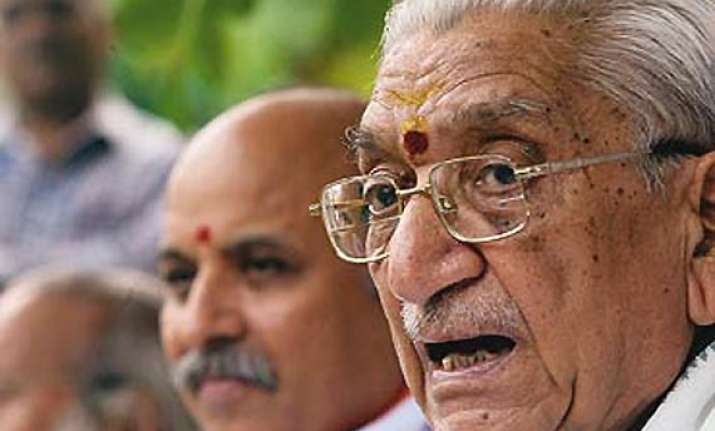 Faizabad: With VHP adamant in going ahead with its planned yatra from Ayodhya from Sunday, the Faizabad district administration today issued arrest warrants against its 70 leaders amid heavy deployment of police force in the twin towns.
Ashok Singhal, Pravin Togadia and Ram Vilas Vedanti were among the leaders against whom the warrants were issued, Faizabad district magistrate Vipin Kumar Dwivedi told reporters in Faizabad. The yatra has been banned by the Uttar Pradesh government over possible communal flareup.
According to police sources, 20 VHP activists have been nabbed while some senior leaders including Vedanti have gone underground.
The Uttar Pradesh government also sought help from neighbouring states in intelligence-sharing on the movement of activists of the saffron outfit.
"Neighbouring states have been asked for intelligence sharing in wake of the proposed 84 kosi yatra of VHP on August 25," R K Vishwakarma, IG, Law and Order told reporters in Lucknow. The district administration is expecting about 40,000-50,000 VHP activists to take part in the 84-kosi Parikrama yatra.
In Faizabad, about a dozen police teams are conducting regular raids on various hideouts of VHP leaders, Dwivedi said, adding, the district administration did not allow Singhal to proceed to Ayodhya while he was coming from Allahabad.
He said adequate security force has been deployed in the twin towns of Ayodhya-Faizabad.
Asked if the borders of the district would be sealed, Vishwakarma said a decision would be taken depending on the situation but for now anyone can visit the city.
"Only those going for the yatra will be stopped," he said, but did not elaborate how they would identify such people.
Vishwakarma said besides 13 companies of PAC and three company of RAF, two Superintendent of Police (SP), 19 Additional SPs, 42 Deputy SPs, 135 inspectors, 430 sub inspectors and 1,300 constables have been deployed in Faizabad.
The yatra has six districts in its route-- Faizabad, Basti, Barabanki, Gonda, Bahraich and Ambedkar Nagar.
Chief Minister Akhilesh Yadav met legislators of Faizabad and adjoining districts and took stock of the situation there.
The legislators were asked by Yadav to keep an eye on the situation and apprise the party and him about the ongoing developments in the area.
The VHP plans to keep the yatra going till September 13 to push for Ram temple at the disputed site.
Its leaders have also reportedly chalked out a plan to defy security arrangements and reach the venue by Sunday from where the yatra is scheduled to begin.