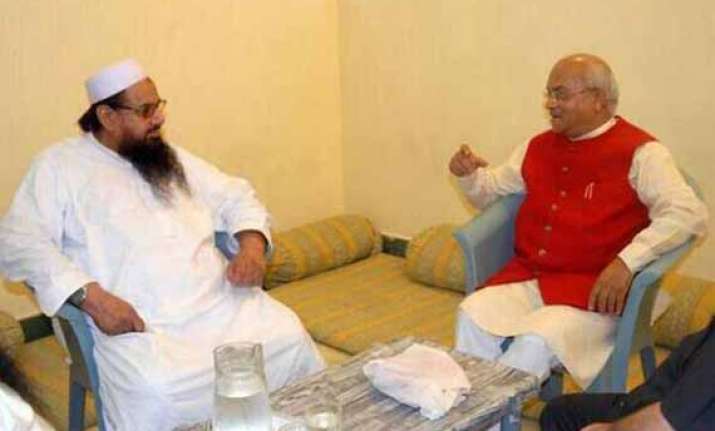 New Delhi: Ved Pratap Vaidik's meeting with Hafiz Saeed in Lahore on July 2 while touring Pakistan along with a group of journalists and politicians, had sparked national outrage.
Vaidik was trying to meet Hafiz Saeed, the mastermind of the 2008 Mumbai attacks, from past one year but, the encounter got delayed for some reasons.
Sources say that, when Vaidik approached for the meeting, Jamaat- ud- Dawah agreed for the meeting, but Hafeez Saeed backed out at the last minute.
This year the meeting between Saeed and Vaidik was arranged by a Pakistani journalist, says sources.
Vaidik travelled to Pakistan again in June this year with a delegation for a Track- II seminar organised by the Regional Peace Institute, a think tank headed by former foreign minister Khurshid Kasuri. While other in the delegation, including former ministers Mani Shankar Aiyar and Salman Khurshid, headed back home after two days, Vaidik stayed on for almost 20 days.
Sources familiar with the visit said Vaidik made one request to virtually every person he interacted with in Islamabad – could they help arrange a meeting with Saeed. " It appeared he was very keen on meeting Saeed," said a journalist in Islamabad who interacted with Vaidik.
Vaidik travelled to Pakistan last year as well to meet PML- N chief Nawaz Sharif.
According to spokesman of Jamaat- ud- Dawah, Yahya Mujahid, Ved Pratap Vaidik, the " senior Indian intellectual", himself sought a meeting with Saeed.
" This is not the first time it happened. For a long time, Hafiz Saeed has been meeting national and international thinkers and media persons to present his point of view on various issues. I was present during the meeting," said Mujahid.
" Islamic education, India- Pakistan relations and the Narendra Modi government in Delhi were the main topics of discussion," he said.
When questioned about the new Prime Minister of India, Narendra Modi by Vaidik- whether Saeed would protest if Modi visited Pakistan and Saeed responded by saying, " We do not believe in politics of protest." However, Saeed said if Modi does come, he would " definitely offer his points of view".
When Vaidik asked about the Mumbai attacks, Mujahid quoted Saeed as saying that he had repeatedly contended he had " no links with the attacks". The Lahore High Court and Pakistan's Supreme Court had rejected Indian dossiers and " India should respect the judgements of our courts", Saeed said.
" It appeared he was very keen on meeting Saeed," said a journalist in Islamabad who interacted with Vaidik.
In fresh investigation, India has presented fresh set of dossiers to US against Hafeez Saeed on Mumbai attacks.