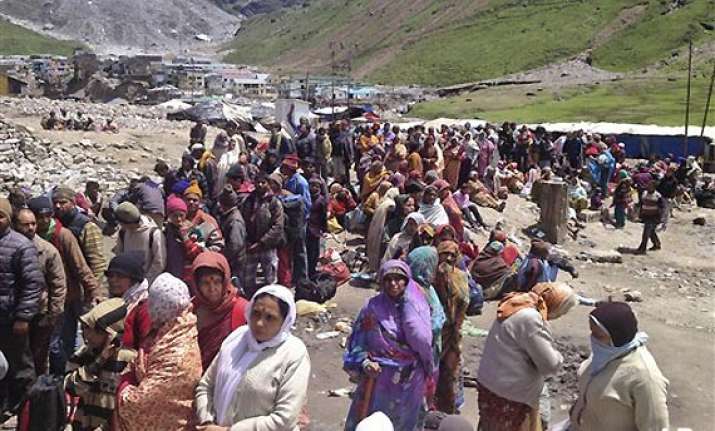 New Delhi/Dehradun, Jun 22: Rescuers scrambled Saturday to evacuate about 8,000 people who are still trapped in Uttarakhand's Kedarnath region as met office predicted rains in the flood-hit area from June 24.
A new ropeway has been installed at Lambagar, about 10 km from Badrinath, to rescue people, Indo-Tibetan Border Police (ITBP) spokesperson Deepak K. Pandey told IANS.
He said about 8,000 people were still trapped in Kedarnath region that suffered massive damage due to rains and flash floods.
Pandey said stranded people were being brought to Govindghat and then taken to Joshimath through bus and other vehicles. In Joshimath, names of rescued people are being noted before sending them for onward journey to Dehradun, Haridwar and Rishikesh.
He said women, children and elderly were being sent through helicopters while the youth and able-bodied were being helped out through ropeway.
"About 400 persons have been rescued through ropeway since yesterday (Friday)," Pandey said.
He said rescue efforts have been augmented in view of possibility of rain in the region from June 24.
PTI adds:  Rescuers were today racing against time to reach out to 1000 stranded pilgrims sighted in the gorges and ravines between Kedarnath and Gaurikund as 17 foreign tourists were evacuated from flood-hit Dharasu in Uttarkashi district.
Home Minister Sushilkumar Shinde, who arrived in the Uttarakhand capital to review rescue efforts with Chief Minister Vijay Bahuguna, said operations are underway on a war footing to evacuate about 40,000 pilgrims stranded in various places and set a three-day deadline to the agencies involved to complete the evacuation process.
The death toll in flash floods and landslides in Uttarakhand crossed 550 yesterday and was expected to rise today as an eight-member team of experts is being sent to Kedarnath shrine to take a count of bodies lying in the temple area.
Disaster Management authorities here said that photos of the bodies strewn all over the area will be taken and put on the state government's official website.  
Officials said about 1000 more pilgrims stranded in Rambara and Junglechatti areas en route to Kedarnath shrine in Rudraprayag district were sighted by security forces.  
These people seem to have taken refuge in the gorges and ravines in these areas when the massive deluge occurred nearly a week ago.
Hungry for days, many of those sighted are ill and and in need of immediate medical care, official sources said, adding the sick and ailing among will be evacuated on a priority basis.
Principal Secretary of State Disaster Management Authority said a total 0f 73,000 pilgrims and tourists have been rescued till date.
Apart from the 40 choppers in operation, the Rajasthan government has also given two choppers and 30 buses for evacuation of pilgrims.
The Gujarat government has also put into operation two chartered planes 747 Boeings (Jet Airways) with a capacity of 140 persons each to ferry pilgrims from the state stuck in high altitude areas to Ahmedabad.
Chopper operations were hampered here early this morning with overcast conditions delaying the programme of Gujarat Chief Minister Narendra Modi, who was to undertake an aerial survey of the affected areas in Rudraprayag, Chamoli and Uttarkashi districts.
A control room for pilgrims from Gujarat has been set up at Shantikunj Haridwar.
In Himachal Pradesh, seven foreigners were today evacuated from tribal Lahaul and Spiti district even as the state chopper made sorties to high altitude areas in Pooh, Tabo and Nako to airlift people stranded in rain-ravaged Kinnaur district for the past eight days.  
The sorties would continue till the evening to evacuate maximum number of stranded people, state officials said.  The exact number of people stuck up in these areas is yet to be ascertained as reports of more people stranded in remote areas are still pouring in.
Most of the link roads and Hindustan-Tibet National Highway was blocked at numerous places due to landslides and breaches and a large number of vehicles are stranded in the district.