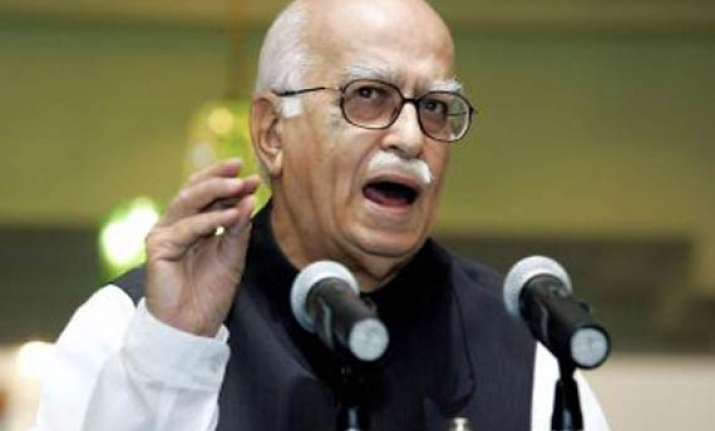 Dehra Dun, Nov 18 : BJP leader L K Advani on Thursday accused the UPA of being in a state of paralysis and attributed its "inability to take decisions" to the tradition of "dynastic succession" in the Congress which heads the ruling alliance.

"I have seen governments since Pandit Nehru. But I have not seen such kind of paralytic government in my life...It is due to this dynastic succession in the Congress that the UPA is unable to take decisions and is in a state of paralysis," Advani said during his Jan Chetna Yatra here. 
In reference to Sonia Gandhi allegedly being given precedence over Prime Minister Manmohan Singh in matters of governance, he said the UPA government is functioning on the Leftist pattern where the party chief is more important than the state head.

"I wonder whether we have really adopted the communist-style of functioning," Advani said.  On the black money issue, the BJP leader said the Centre should take an initiative to bring back black money worth Rs 25 lakh crore, which he claimed had been stashed abroad in different banks.

"According to an assessment by an American agency, Rs 25 lakh crore of Indian money is stashed abroad. The government must do something to bring this money back," he said.  "Britishers took away Rs one lakh crore during their 200-long rule, but it is amazing that Indians amassed Rs 25 lakh only during the past 63 years," he said.  He pointed out that the Swiss government has already enacted a law under which such black money can be sent back to the countries concerned.

"Some of the countries like Germany and France have already started the process to withdraw the black money. Many small countries have also taken similar steps, but our government has not take any step to withdraw this money," Advani said.

He said the BJP will take up the issue of black money in the Winter Session of Parliament which is beginning from November 22.

Addressing a rally in Himachal's Kala Amb area, Advani said the aim of his Yatra is to create awareness about magnitude of corruption and to pressurise the UPA government to act promptly for bringing the black money back to the country.