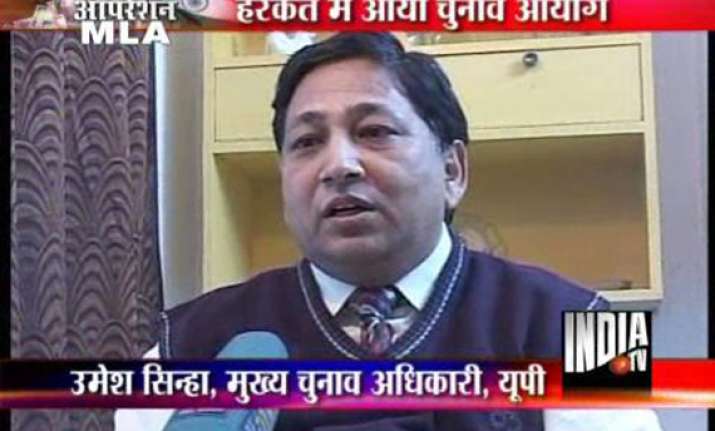 New Delhi/Lucknow, Jan 27 : Umesh Sinha, the chief electoral officer of Uttar Pradesh on Thursday night requested India TV to provide CDs of all stings undertaken by the channel's undercover reporters to expose political party candidates seeking  money for poll expenses.
"Strict action will be taken against those violating the model code of conduct", Sinha said. 

The India TV series of stings exposed how 11 candidates belonging to different political parties met the undercover reporters, posing as representatives of a "corporate, in Delhi and wanted money ranging from Rs 50 lakhs to Rs 4 crore.
The candidates promised to work for the corporate in the UP Assembly after being elected.
The district magistrates of Saharanpur and Muzaffarnagar (Prabuddha Nagar), from where these candidates are contesting, have also requested India TV to provide the CDs of the stings done against the candidates.


The names of the candidates and their party affiliations are given below:

                                                        LIST OF CANDIDATES


NAME  

CONSTITUENCY
DISTT.
PARTY
1) SUKHLAL

 

BARKHERA
PILIBHIT
CONGRESS
2) VIRENDRA SINGH CHAUHAN
SHAMLI

 

PRABUDHNAGAR
S.P
3) KIRANPAL KASHYAP
THANABHAVAN
PRABUDHNAGAR
S.P
4) J.P. SINGH
KUNDARKI

 

MURADABAD
JDU
5) SHAHNAWAZ RANA
BIJNAUR

 

BIJNAUR
RLD
6) NARENDRA SINGH SHISHODIA
MODINGAR
GHAZIABAD
S.P (Expected)
7) NAHID HASAN
GANGOH
SAHARANPUR
BSP
8) SAYYAD JAKI ASHARFI
PILIBHIT SADAR
PILIBHIT
CONGRESS
9) CH. AYUB JUNG
KAIRANA
PRABUDHNAGAR
S.P
10 SALEEM ANSARI
SHAMLI
PRABUDHNAGAR
PEACE PARTY
11) Harpal Singh

 

Dhanaura
J P Nagar
BJP