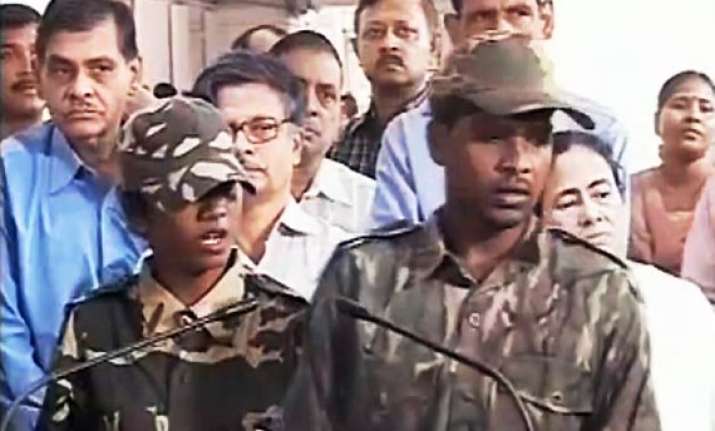 Kolkata, Nov 17: Responding to Chief Minister Mamata Banerjee's call, a hardcore Maoist couple against whom several cases of murder and violence including the deadly attack on a paramilitary camp in Silda were pending surrendered today before the police.

The wanted top Maoists—Jagari Baskey(26) and her husband Rajaram Soren(34)--were also presented before the Trinamool Congress supremo, who welcomed their decision and promised that the West Bengal government would take care of those who would surrender and eschew violence. 

The couple, who were accompanied by their four-year-old son Bahadur, surrendered before the IG (IB) O P Gupta at the state secretariat.

Officials said this is for the first time any Naxal has surrendered at the Writers' Building, housing the secretariat.  The dreaded duo were involved in several incidents of ambush on security camps and villagers in Purulia, Bankura, and West Midnapore district.

The couple, dressed in Army fatigues, first contacted SP, Purulia. The SP then contacted Gupta in Kolkata.  Thereafter the two were brought to the Writers' Building and presented before the Chief Minister. 

The couple said they had decided to surrender in response to the chief minister's call to return to the mainstream, lay down arms and lead a normal life taking advantage of the government's package.

Welcoming the decision, an elated Banerjee said, "I am again calling my brothers and sisters, who have been misguided and have taken up arms, to surrender to take advantage of government's economic package and lead a normal life."

Jagari was involved in the Silda EFR camp attack in which 21 personnel of the state's paramilitary force were killed in February last year.

The surrender took place amid intensification of joint operations against Naxals today in junglemahal, round-the-clock patrols in Purulia district and combing of some areas in West Midnapore district. 

"I would like to warn those still engaged in planning and conspiracy to kill people and who act from behind the curtains. If you really love your country, eschew violence. I feel sad if a Maoist is killed, if a CPI(M) worker is killed, if a Trinamool Congress man is killed or a Congressman is killed," Banerjee said.

She said that the peace process to resolve the Maoist tangle would continue.

"The opposite to peace is violence. Both cannot go together. Let there be an ideological fight. But killings be stopped. There has been enough of bloodshed. We don't want any more bloodshed. My government is determined to ensure development for the poor in Purulia, Bankura and West Midnapore districts," she added.

Jagari confessed that she had been forced to join the Maoist outfit when she was just 16 years old. 

"I belong to a poor family of a backward villager. They (Maoists) misguided me by saying that they were struggling for the rights of the poor. Now I feel it is time to surrender when the CM has given a call to return to normal life," she told reporters.

For a long time, the couple were associated with the Ayodhya squad of the Maoists in Purulia district.  Jagari, who was born at Potunda village in Singhbhum district in Jharkhand, lived most of her life at Bogdoba village at Belpahari in West Midnapore district.I Before the Silda camp was raided on February 10, 2010, Jagari, accompanied by two other women, undertook a recce of the camp.

She took a leading role in the kidnapping of Atin Dutta, then OC of Sankrail police station, in October, 2009 which prompted the government to go for a swap deal with the Maoists for the release of Dutta.

Jagari was also a part of the Maoist squad allegedly responsible for the killing of CPI-M leader Rabi Kar and a blast at the Bandwan police station in Purulia district killing then OC Nil Madhab in 2004. 

"I was a small child and got emotionally influenced by them (Maoists) and strayed into the wrong path. My appeal to all those carrying out Maoist activities in Jangalmahal to return to the mainstream and lead normal lives," Jagari said. 

Rajaram Soren alias Sagen Santhal said, "We are illiterate villagers. I killed many people and policemen. I now realise how I was misled and how they (Maoists) cheated us. They used to talk about championing the cause of the tribals, but they never fought for their cause in reality.  They used to engage themselves in the killing of people."

Earlier on November 6, a Maoist action squad commander Duryodhan Rajkowar alias Sujan and his wife Akri Sahis had surrendered before the Purulia police. 

Banerjee said the government would have a look into the cases registered against them. They will be given all facilities, including money, as per the package announced earlier.

She also promised admission of the couple's 'charming' child to a Ramakrishna Mission school.