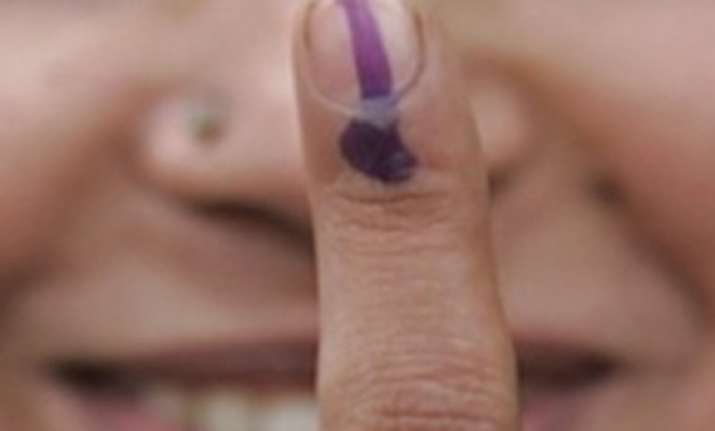 New Delhi, Apr 15:
Delhiites today turned out in large numbers for the Municipal Corporation polls, the first for the trifurcated civic body, with an estimated 55 to 58 per cent exercising their franchise in a peaceful exercise.
The fate of 2,423 candidates, vying for 272 wards of the three civic bodies—East, South and North—carved out of the existing Municipal Corporation of Delhi (MCD), was sealed in the Electronic Voting Machines.
There were no reports of violence during the election for three new Corporations, seen as a semi-final ahead of next year's Assembly polls in the state.
Fifty to 58 per cent of the 1.15 crore-strong electorate exercised their franchise but the exact turnout would be known tomorrow morning, State Election Commissioner Rakesh Mehta told a press conference here.
"Exact figures will be available tomorrow," he said. The voting percentage could surpass 60 per cent if there was a high turnout in the last hour, he said.  In the last elections in 2007, the voting was a dismal 42.78 per cent.
Both Congress and BJP claimed their parties would sweep the polls.
Delhi Congress chief J P Agarwal said he was "100 per cent confident" about his party's victory while his BJP counterpart Vijender Gupta was "certain" his camp was going to win all the three Corporations.
The counting of votes will take place on Tuesday.
The start of voting was delayed at a few places due to malfunctioning of the EVMs. Some people, including Congress Rajya Sabha member Pervez Hashmi, complained about not finding their names in the electoral rolls.
Around 63.25-66.70 lakh lakh voters exercised their franchise this time compared to 42.35 lakh out of a total of around 99 lakh in 2007.
If the polling percentage touches 60 per cent, then the figure will rise to 69 lakh, the State Election Commissioner said.
He said trends showed the highest turnout was recorded for the East Delhi Corporation followed by the North Delhi.
The South Delhi Corporation registered the lowest turnout.
As per available statistics, people in rural areas came out in large numbers compared to those in urban localities.
There were no complaints of irregularities, including that of booth capturing or bogus voting, Mehta said thanking Delhi Police Commissioner B K Gupta for the peaceful voting.
BJP, which has 164 Councillors against Congress' 67 and BSP's 17 in the undivided MCD, had raised the issue of alleged corruption in the Sheila Dikshit government during the campaigning.
Congress targeted the saffron party for its "inefficient and corrupt" administration in MCD.
New Ashok Nagar ward in East Delhi registered 65 per cent polling while Vasant Vihar 43 per cent. Last time, Mehta said, Vasant Vihar had polled less than 20 per cent votes.
He said in many polling booths voting was allowed beyond 5:30 pm to facilitate electorate, who were in the queue, to exercise their franchise.
Mehta said they had put in a lot of efforts to get people out of their houses and feel a sense of responsibility about participating in the elections.
Voters in three villages—Sannoth, Ladpur and Khera in Kazipur—boycotted the polls protesting what they alleged authorities' apathy towards them in providing civic amenities like proper roads and drainage.
However, Mehta said the boycott was not related to the Municipal polls.
Some people complained they were not allowed inside polling booths because they did not possess the 'letter' from the State Election Commission.
As many as 83,000 policemen kept a tight vigil across the capital as polling began at 8 AM.
Long queues were seen at some polling stations like Mahipalpur and Said-ul-Ajaib as morning walkers enthusiastically went to vote.
A large number of senior citizens and women were also seen queueing up at polling booths to cast their votes in the morning hours.
"Every body should vote. They should select the best people whichever party they belong to," said 91-year-old Ratilal Shah, a voter in Chandni Chowk, who claims he had voted in all elections since Independence.
Union Minister Ajay Maken, Delhi Minister Kiran Walia, Delhi Pradesh Congress Committee chief J P Agrawal, BJP state president Vijendra Gupta and Deputy Speaker of Delhi Assembly Amrish Singh Gautam were among those who turned up in the early hours to cast vote.
Prominent local leaders like Jaikrishna Sharma of the Congress and Subhash Arya of the BJP also cast their votes.
With assembly polls in Delhi 18 months away, the outcome of the Municipal polls is crucial for Chief Minister Sheila Dikshit and the Congress as well as the opposition BJP.
"The poll percentage was 41 per cent in 1997, 51 per cent in 2002 and 42 per cent in 2007," Mehta said.
In some polling booths, malfunctioning of EVMs delayed the start of voting with Mehta saying he had reports from eight to ten places about such incidents.
EVMs malfunctioned in Sarita Vihar, Narela, Mandwali, Majnu ka Tila, Sadar Bazar and Gokulpuri among other places.
Voters in Matia Mahal alleged they had to wait for 75 minutes for the polling to start in the morning because of faulty EVMs.
"There was delay in some places. But it was rectified. Some of the poll officials closed the voting machines leading to its sealing. In such cases, you have to call the engineers to reopen it. So there was a delay," Mehta said.
There are 104 wards each in South and North Corporations and 64 in the East, of which 138 seats are reserved for women.
South has the highest number of 904 candidates followed by North (885) and East (634).