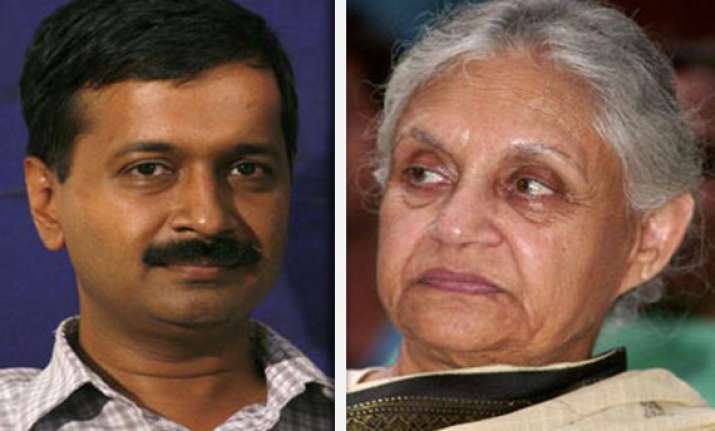 New Delhi: Delhi is heading for a triangular contest in December 4 assembly polls as Chief Minister Sheila Dikshit seeks an unprecedented fourth victory, BJP looks for return to power after 15 years while Arvind Kejriwal's Aam Admi Party is set to make it a fight in certain pockets.
The poll process in Delhi will begin on November 9 with the issue of notification and the last date for filing of nominations is November 16.
The date of scrutiny of nominations has been fixed for November 18, while candidates may withdraw their nominations by November 20.
For the first time, 1.15 crore voters in the city will have the option of pressing the 'none of the above' option button in EVMs.
Delhi's Chief Electoral Officer Vijay Dev said that to ensure enforcement of the model code of conduct and monitor expenditure by candidates, IAS officer Ankur Garg has been appointed.
According to electoral roll data published today, a total of 1,15,11,036 voters are enrolled with the Election Commission, of whom 63,81,003 are men and 51,29,490 are women.
During the last assembly election in 2008, the total number of voters were 1,07,38,416 including 59,75,917 males and 47,62,499 females.
Likewise, during the last Lok Sabha election in 2009, the total number of voters in Delhi was 1,10,93,188 including 61,85,859 men and 49,07,329 women.
"In a positive development, gender ratio has crossed 800 mark and stands at 804 female per 1000 male. Besides that, the number of first-time voters (18-19 years) has increased from 98,000 in the municipal election in 2012 to 3,53,016 till today," said Dev.
Dev said voting will take place in 11,763 polling booths in 2603 locations. He said 133 polling locations have been identified as "critical" and special security measures will be put in place in those areas.
He said the Election Commission will continue updating the electoral roll till 10 days before the last date of filling of nominations for the assembly polls though the final electoral roll has been published.
Dev said the upper limit for expenditure will remain at Rs 14 lakh for candidates. The expenditure monitoring will come into affect from November 20.
As per the provisions, each candidate will have to open a separate bank account for making transactions of receipt and payment for election purposes and details of such account will have to be submitted to returning officers at the time of filing of nominations.
To keep a check on expenditure, assistant expenditure observers will maintain a "shadow expenditure register" of each candidate for all expenditures made by candidates and the same would be compared with the expenditure register maintained by the candidates.
Dev said that as far as security measures are concerned, 35,000 Delhi police personnel, 11,788 Home Guards and 82,000 civil staff will be deployed to conduct peaceful election.
For implementation of the model code of conduct, three flying squads have been constituted in each constituency. Besides, enforcement teams will be constituted in each district for checking of illegal distribution of liquor. Video surveillance team will cover each political activity, said Dev.
Dev said that for the first time Awareness Observer has been appointed in each constituency, besides General Observer and Expenditure Observer.
"The Awareness Observers' job will be to spread awareness about polling and facilitate voters in the election process. Very soon a comprehensive awarness programmes for voters will be launched by the election commission, said Dev.
Dev appealed to the public not to carry huge cash (more than Rs 50,000) with them when the model code of conduct is in force. Political parties will also be informed through meetings for compliance.
"A toll-free number 1800-111-400 has been launched from the headquarters on which general public can inform the Election Commission regarding any violation of the model code of conduct, suspicious cash flow, liquor inducement or any other grievances," said Dev .
He asked political parties and candidates not leave any column blank in their nomination form while filing affidavits as it will result in rejection of their candidature. Returning officers and political parties have been sensitized about the guidelines in this regard, said Dev.
While exhorting voters to exercise their voting rights, Dev said people could use NOTA and increase the polling percentage.