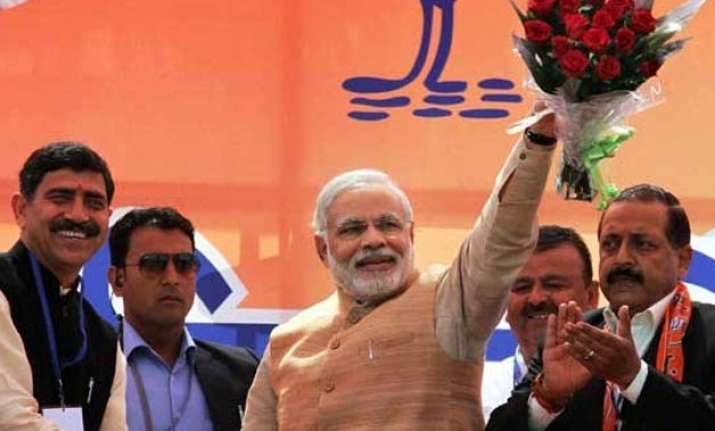 1. PM Narendra Modi to launch DD Kisan channel
New Delhi:
PM Narendra Modi will today launch DD Kisan channel from Vigyan Bhawan 4pm
2. Smriti Irani to visit Amethi on first anniversary of Modi government
Amethi: Union Minister Smriti Irani, who lost to Rahul Gandhi in Amethi in the last Lok Sabha polls, will today visit Amethi, on the first anniversary of the Narendra Modi government during which she will address public meetings.
3. Amit Shah to address a press conference
Delhi: Amit Shah to address a press conference at 10am at 11, Ashok Road on completion of one year of Govt
4. Congress will release booklet on Modi Government
Delhi: Congress will release booklet on Modi Government tomorrow-"Ek saal desh hua Behal". Gulam Nabi Azad and Mallikarjun Kharge will release book
5. Maharashtra Congress to observe as Death Anniversary of 'Achhe Din'
Mumbai: Criticising the Modi government, which completes one year in office on May 26, over its "false" promises, Maharashtra Congress on Friday said it would hold protests against the Centre on the day and observe it as 'punyatithi' (death anniversary) of 'achhe din'.
6. Congress to protest in front of BJP MPs' residences
Jaipur: Congress workers would hold protest demonstration in front of the residences of BJP MPs in all the 25 Lok Sabha constituencies in Rajasthan on May 26, the day on which BJP-led NDA government completes one year in office.
7. Rahul Gandhi to address rally in Kerala
Thiruvananthapuram: Congress vice president Rahul Gandhi will address a youth Congress rally in Kerala on May 26 as part of its preparations to brace up the party workers before the local body polls slated for this year and assembly polls next year.
8. Delhi Assembly special session on L-G powers
New Delhi: The Delhi government has announced a special two-day session of the legislative assembly starting May 26 to discuss the response to the Union Home Ministry notification that curbs its various powers.
 9. K'taka cabinet to decide on appeal against Jaya's acquittal
New Delhi: The Karnataka Cabinet will meet on Tuesday to take a decision on filing an appeal against the acquittal of Tamil Nadu Chief Minister J Jayalalithaa in the disproportionate assets case, senior Congress leader P Chidambaram
10. Narayan Sai to be out on conditional bail tomorrow for 3 weeks.
Ahmedabad: Son of Asaram Bapu, Nararyan Sai will be out of jail tomorrow on three-week conditional bail. Narayan Sai's mother is going to be operated in hospital in Ahmedabad
11. Ministers to hold public meetings in UP
Mathura: Seven Union ministers will hold meetings and press conferences in Uttar Pradesh between May 26 and 30 to apprise people about the achievements made by the Narendra Modi government in the last one year, state BJP president Laxmikant Bajpai said
12. Bombay HC will hear Salman Khan's travel plea
Mumbai: Actor Salman Khan's plea for permission to travel abroad to Dubai for an event will be heard on Tuesday by a single judge vacation bench of the Bombay high court.
13. Central IAS Association to address media
Delhi: Central IAS Association to address media tomorrow at 11am regarding problems faced by IAS and DANICS officers in Delhi due to tussle between LG and Delhi CM. Association likely to hand over a memorandum to Central Government regarding the matter.