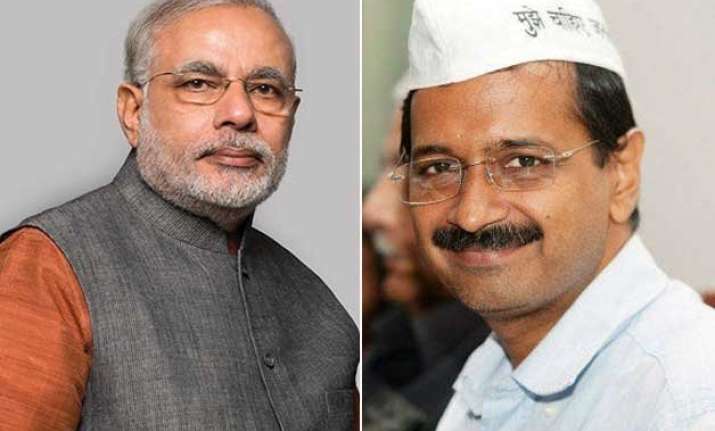 Centre reverses 1998 circular, authorises LG to access files before CM
The Central government has issued a new notification authorising Lt Governor Najeeb Jung to access files on reserved subjects of police, public order and land before these are sent to the Chief Minister's Office.
The notification underlines the supremacy of Delhi L-G over matters  relating to 'Public Order', 'Police', 'Land' & 'Services'.
Kejriwal slams Modi govt notification, links it to corruption
In a frontal attack on Modi government, Chief Minister Arvind Kejriwal today accused it of trying to run Delhi through "backdoor" to protect the corrupt and said it had "back-stabbed" the people of the city by issuing a notification "siding" with the Lt Governor.
Notification will remove confusion, help AAP run Delhi well: Arun Jaitley
The Centre today said the Home Ministry's notification on allocation of powers in Delhi would "remove" all confusion regarding governance in the national capital and help the AAP government run the city efficiently.
 
Union Finance Minister Arun Jaitley also made it clear that the row over distribution of powers in Delhi was not a political issue but a constitutional one.
Amma returns: Tamil Nadu Governor invites Jayalalithaa to form government
AIADMK supremo Jayalalithaa who made her first public appearance in eight months today, was greeted by thousands by showering flowers on her vehicle as it inched towards the Governor's residence.
Jayalalithaa, who was elected as leader of AIADMK Legislature party, will be sworn in as Chief Minister at 11 am tomorrow at the Madras University Centenary Auditorium, according to party sources.
ED arrests bookie in Delhi, cracks whip on betting syndicates
The Enforcement Directorate (ED) today arrested a suspected Delhi-based bookie after launching searches in multiple cities, including Delhi, Mumbai and Jaipur as part of its hawala and money laundering probe against some betting syndicates in connection with the latest IPL T20 cricket matches.