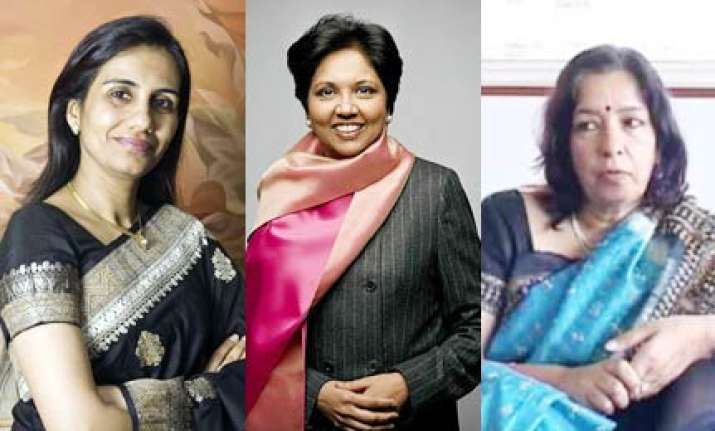 Boston, Oct 7: Three Indian women, including ICICI Bank chief Chanda Kochhar, today made it to the world's 100 most powerful women list compiled by Forbes magazine which has put America's first lady Michelle Obama on top.  
Indra Nooyi, the Chennai-born CEO of food and beverage major PepsiCo, is ranked 6th, while Axis Bank's Chief Executive Shikha Sharma is placed at 89th position and Kocchar is at 92.  
However, Sonia Gandhi, head of the the Congress Party that leads the ruling coalition in the country, surprisingly does not figure in this year's list released today.  
In the annual list published last year, Forbes had ranked Gandhi at the 13th position and had said that "Gandhi, the Italian-born leader of India's most powerful political party, the Indian National Congress Party, is still the country's dominant force since she reluctantly entered politics in the 1990s."  
This year, Forbes divided the 100 power women candidates into four groups of politics, business, media and lifestyle.  
It ranked the women in each group, and then group against group.  
Nooyi, Sharma and Kocchar have also been ranked separately under the 'business' category. Nooyi is the second most powerful woman in the world in the field of business after Kraft Foods Chief Executive Irene Rosenfeld.  
Out of the 39 women listed in the business category, Sharma's rank is 33 and Kocchar's is 35.  
Nooyi, whose total annual compensation package last year was USD 10.6 million, nudged a USD 20 million slice of the company's USD 616-million-a-year ad budget away from traditional to social media spends.  
Forbes said Pepsi's worldwide campaign, Pepsi Refresh, allocates USD 1.3 million each month for a US project, such as the recent 'Do Good For the Gulf,' which offers stipends to build a shelter for animals whose owners lost their homes to the oil spill and to provide mental health services and job training.  
"Brands have to speak to millenniums; young people want to make a difference," Forbes quoted 54-year old Nooyi as saying.  
Referring to Sharma, Forbes said with the first year of her three-year term as CEO of India's third-largest private bank behind her, "it's time look forward" for the 49-year-old.  
For Sharma, "much of the tough transitional work is over, including fighting the very public opposition to her getting the job from outgoing Axis chairman P J Nayak." PTI