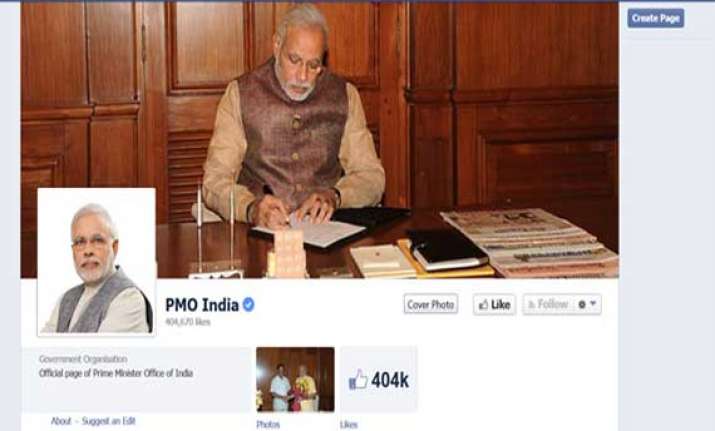 New Delhi: We all know how tech-savvy Narendra Modi is. He is amongst the most active persons on the social networking sites. Now adding to this, he has an official page of PMO on one of the biggest social networking site, Facebook.
PMO India, the official page of Prime Minister of India, was made on May 27 and had registered more than 4 lakh likes by Friday.
The page has pictures of PM Modi's meetings with various high-ranking officials as well as his cabinet colleagues and other political leaders.
Narendra Modi took charge of PMO's official Twitter page just after swearing-in to India's new Prime Minister, and had following an ugly row that caused embarrassment to the former Prime Minister Manmohan Singh's office.
Singh's official Communications Adviser Pankaj Pachauri had reportedly decided to archive the old account, to comply with the Right To Information (RTI) Act. But while doing that, he also threw away the million-plus followers of the PMO handle.
The BJP criticized Singh's office and claimed that the Twitter account @PMOIndia is a national digital asset.
After many followers joined the BJP is trolling Congress, Singh's office gave in and the Twitter handle was updated on Tuesday with Modi's details and reflected along with its million-plus followers.
As India has millions of Facebook users, PM Modi is certainly matching them to go long way.