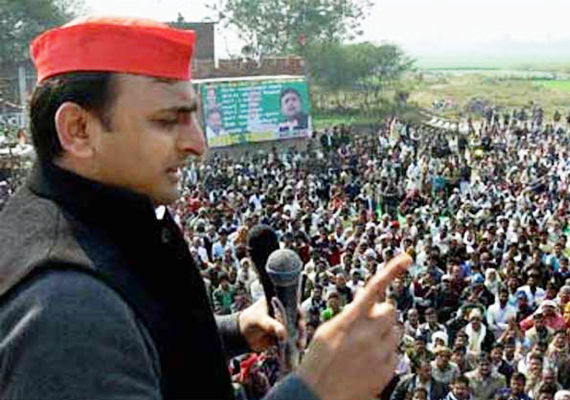 Lucknow, March 8: A time there was when the Samajwadi Party was considered to a regressive party with an "anti-computer" ideology, but this perception was thrown to the winds in the recently concluded Assembly elections in Uttar Pradesh. 

Facebook, a website generally associated with young networkers, once saw 54,528 users logged in for a direct session with Akhilesh Yadav, the new SP mascot, reports Indian Express.

UP had nearly 50 lakh first-time voters this time and the huge turnout included many of the young, urban voters.

The laptops and tablets promised to students in the SP manifesto marked one of the party's many deviations from what had been an "anti-computer" image so far.

Akhilesh brought the SP on the internet with a website that is updated regularly, besides putting it on Facebook with latest videos and photographs of Akhilesh addressing rallies.

And all through his Samajwadi Kranti Rath, Akhilesh had kept interacting with the young at place after place.

Within the party, he promoted several young members by giving them important responsibilities and tickets to some.

Not known for taking a chance with young greenhorns just because they showed promise, the SP this time fielded Kiran Jatav in Hapur, former cricketer Jyoti Yadav in Allahabad West, Utkarsh Verma in Lakhimpur, and Ashish Yadav in Etah. The last two, like Abhishek Mishra in Lucknow North, won their seats.

The Indian Express report says, the party has gained a foothold in areas where it had never been strong before - an indication of the appeal it appears to have found among new sections, including youths in general and urban voters in particular, two sections that are believed to have usually shunned it.

In Lucknow, where the Samajwadi Party had never won any of the five urban seats since its inception, but where it won three this time.

Outside of the capital, too, the Samjawadi Party has done overwhelmingly well in districts with a large Muslim-Yadav population, sweeping all the seats in a number of these.

In Lucknow North, the winner was Abhishek Mishra, an unlikely SP candidate who had been a management guru, with a PhD from Oxford, but who chucked his job as an IIM professor to enter politics.

He defeated Congress candidate Dr Neeraj Bora in a contest where the BJP's Ashutsosh Tandon, son of local BJP MP Lalji Tandon, was relegated to third place.

The SP's Ravidas Mehrtora snatched Lucknow Central from the BJP, while Rehan Naeem won in Lucknow West against the Congress's Shyam Kishore Shukla.

Rita Bahuguna Joshi of the Congress and Kalraj Mishra of the BJP won the two other urban seats, Cantonment and East respectively.

In districts where the SP does not boast an M-Y base, it registered clean sweeps of all six seats in Barabanki, all five in Ambedkarnagar, all four in Balrampur, all three in each of JP Nagar and Sant Ravidas Nagar, and both in Shravasti — besides winning the Ayodhya constituency.