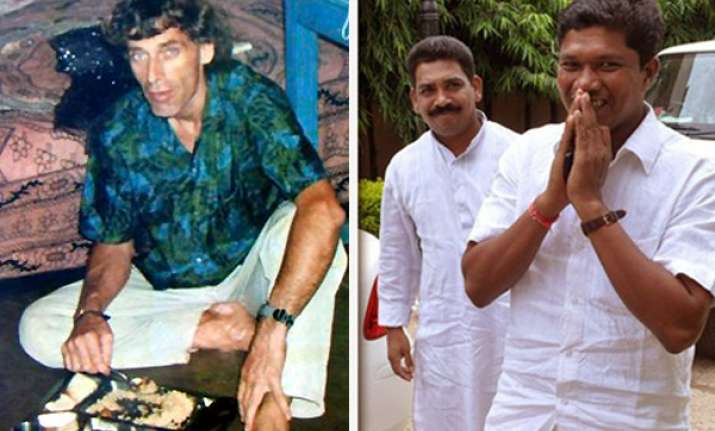 Bhubaneswar, Mar 26: Talks resumed today between the Odisha government and Maoist-appointed mediators for the release of the second Italian even as another rebel group holding captive a ruling BJD MLA demanded immediate halt to combing operation and release of jailed ultras. 
"Fresh talks for safe release of Italian tour operator Paolo Bosusco progressed in a cordial atmosphere. We hope to conclude negotiations soon," Home Secretary U N Behera told reporters during a break in the dialogue session. 
The talks were suspended on March 24 when tribal BJD MLA from Laxmipur, Jhina Hikakawhen, was abducted by over 50 Maoists while he was returning home from Koraput district. 
Maoist-nominated negotiators B D Sharma and Dandapani Mohanty also maintained that discussions were continuing in a cordial atmosphere and would be concluded soon.  "Now, we have reached a decisive stage," Mohanty said. 
The Home Secretary made it clear that the talks with two rebel mediators were confined to safe release of Bosusco, whose compatriot, Italian tourist Claudio Colangelo, was set free yesterday and handed over to a group of journalists in tribal-dominated Kandhamal district.
As MLA Hikaka was abducted by a separate rebel outfit on March 24 in Koraput district, the matter relating to his release was not being discussed with mediators Sharma and Mohanty, sources said adding the abductors of Hikaka were yet to name their negotiators.
However, Mohanty said there was information that the abducted legislator was "safe and secure". 
Sharma also made it clear that rivalry between Maoist groups had not affected the negotiation for the release of the lone Italian hostage.
A letter, addressed to Chief Minister Naveen Patnaik and bearing name of Hikaka, was released to a section of the media which demanded immediate halt to combing operation by security forces, release of political prisoners including ultras and activists of Chasi Mulia Adivasi Sangha. 
Claiming that the BJD MLA was safe, the letter also demanded fulfilment of all the conditions conceded by Odisha government during the abduction of the then Malkangiri district collector R Vineel Krishna in February last year. 
It also sought a halt to holding of rallies and processions for release of the lawmaker, sources said.  The chief minister has appealed to the Maoists to release Hikaka unharmed immediately. 
The state Assembly was paralysed amid frequent adjournments as Opposition Congress members stormed the well demanding the chief minister's resignation. 
The Congress alleged that ruling BJD had entered into a secret agreement with a Maoist-backed outfit for zilla parishad chairman's election in Koraput.
The issue of Hikaka's abduction rocked the Assembly with slogan-shouting Congress MLAs alleging that the MLA was abducted because of an agreement between the ruling BJD and Maoist-backed Chasi Mulia Adivasi Sangha (CMAS) for zila parishad chairman's elections in Koraput. 
They alleged that the 37-year-old MLA was abducted for non-fulfilment of demands by the CMAS contained in the "secret agreement" arranged by BJD legislators, including Hikaka, of which the chief minister was aware.
Refuting the charge, government chief whip R N Pani said Congress has come out with an 'absurd' theory.  Maoist interlocutor Dandapani also termed the Congress allegation as misleading and baseless. 
While Maoists set free 61-year-old Colangelo, his compatriot Puri-based Italian tour operator Paolo Bosusco, 54 was still being held captive by the ultras who said his release would depend on the Odisha government's seriousness regarding their demands.
The two foreigners had been abducted by the Maoists while trekking in the dense forest and hilly areas of Kandhamal district on March 14. But the matter came to light through media only on March 17.
Regarding the Laxmipur MLA, the sources said the state government was also exploring back channel negotiation with the Maoists as well as leaders of Naxal-backed CMAS in order to secure release of Hikaka.
Top Maoist leader Sabyasachi Panda told a TV channel that a different group was behind the kidnapping of Hikaka and the gunning down of a police sub-inspector in Malkangiri.  He also admitted that factional rivalry existed in the Maoist organisation and that there is nothing to hide. 
The abduction of the BJD MLA on March 24 was preceded by the gunning down of a police sub-inspector in Malkangiri on March 22 and the killing of two policemen in a landmine blast in Koraput on March 18.
Srikakulam-Koraput division of CPI (Maoist), now headed by Dayanidhi, was suspected to have been behind the abduction of the ruling BJD MLA, police sources said.  They further said that a group of local journalists were in touch with the abductors for the safe release of Hikaka.
Two senior minister—S N Patro and ST, SC Development minister Lal Behari Himirika—visited Hikaka's family at Laxmipur in Koraput district.
Hikaka's wife Kaushlaya Majhi and their two minor sons also appealed to the legislator's abductors through media to free him unharmed.