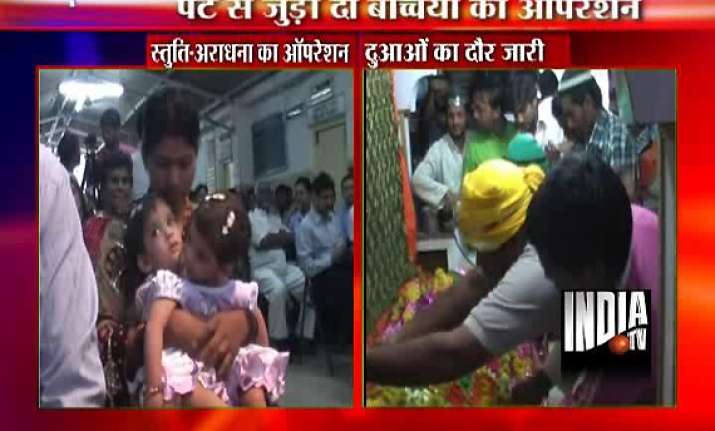 New Delhi, Jun 20:
The team of 34 medical experts from India and abroad today successfully separate conjoined twins - Stuti and Aradhana - after a 12-hour marathon surgery at Mission Hospital, Padhar in Betul district of Madhya Pradesh.
The team of 34 medical experts first began the surgical procedure to separate one-year-old conjoined twins this morning.
An expert in the field of liver transplant, Dr Shoon said the operation was critical and challenging but the team succeeded in separating the two girls.
The  surgeons managed to separate their heart and livers, he said.
A group of doctors including Albert Shoon, Gordan Thomas, Sanjeev Peter and Dhruv Ghosh told reporters that they were satisfied with the preparations made by the Padhar hospital for carrying out the complex surgical procedure to separate the two girls.
The girls were joined at heart and liver. The doctors took the girls inside the surgical theatre at around 8:30am while the formal operation process started at around 11:00am, sources said.
Stuti and Aradhna were born on May 11, 2011 to Maya Yadav, who was unable to bear the expenses required to carry out such a complex surgical procedure, following which the Yadav couple decided to donate the girls to Mission hospital situated at Padhar.
Later, hospital authorities contacted experts world over for carrying out the operation to separate the two and also arranged for funds.
The team performing surgery on the girls includes medical experts from Australia, Ludhiana, Chennai, Gujarat, Vellore and Bangalore trooped into the Padhar-based hospital.
This is the first time that such a surgey is being performed in Madhya Pradesh.
The doctors, along with Padhar hospital superintendent Rajiv Choudhry examined the conjoined girls and conducted several medical tests, reviewed arrangements and installed vital gadgets which they have brought to carry out the surgical procedure.
A prayer meeting was held in  the hospital premises for the success of the surgery.