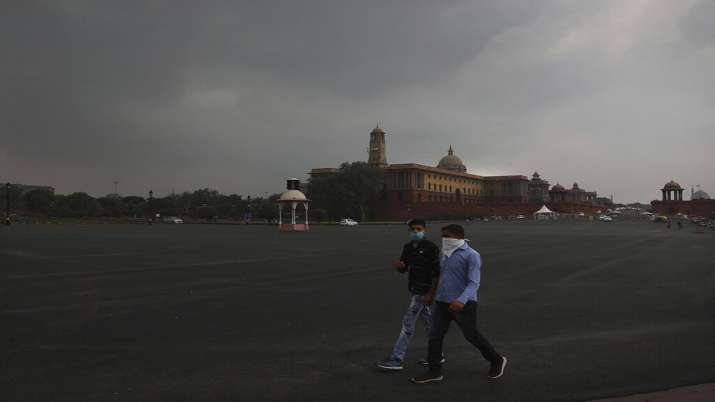 India coronavirus cases have crossed 12.87 lakh-mark, taking confirmed cases toll to 12,87,945, including 4,40,135 active cases, 8,17,209 recovered and 30,601 deaths, according to health ministry's figures released on Friday.
Meanwhile, Maharashtra Thursday recorded its highest-ever figure of Covid-19 deaths, at 298, and second-highest number of new cases on Thursday, at 9,895, with Mumbai region recording its highest toll at 130, health officials said. The daily tally was he second-highest after 10,576 on July 22, as fresh cases soared in the 8,000-plus range in the second half of July. The number of deaths continued to remain in the 200-plus range, with Thursday's 298, crossing the 295 toll on July 4.
With the fresh fatalities, the state's death toll went up to 12,854, while the total cases touched 347,502 - both highest in the country. According to Thursday's figures, there was one death roughly every 5 minutes and a stupendous 412 new cases every hour.
After three consecutive days of a falling recovering rate, Thursday saw an increase from 54.62 per cent a day earlier to 55.09 per cent, while the current mortality rate stood at 3.07 per cent. The Health Department said that of the total cases till date, 140,092 are active.
State-wise list of coronavirus cases deaths in India
| Name of State / UT | Active Cases* | Cured | Deaths** | Total Confirmed cases* |
| --- | --- | --- | --- | --- |
| Andaman and Nicobar Islands | 70 | 170 | 0 | 240 |
| Andhra Pradesh | 34272 | 37555 | 884 | 72711 |
| Arunachal Pradesh | 654 | 334 | 3 | 991 |
| Assam | 8022 | 20699 | 70 | 28791 |
| Bihar | 10994 | 20769 | 217 | 31980 |
| Chandigarh | 256 | 531 | 13 | 800 |
| Chhattisgarh | 1847 | 4377 | 30 | 6254 |
| Dadra and Nagar Haveli and Daman and Diu | 279 | 489 | 2 | 770 |
| Delhi | 14554 | 109065 | 3745 | 127364 |
| Goa | 1666 | 2655 | 29 | 4350 |
| Gujarat | 12247 | 37978 | 2252 | 52477 |
| Haryana | 6348 | 22249 | 378 | 28975 |
| Himachal Pradesh | 687 | 1136 | 11 | 1834 |
| Jammu and Kashmir | 7438 | 8709 | 282 | 16429 |
| Jharkhand | 3734 | 3174 | 67 | 6975 |
| Karnataka | 49937 | 29310 | 1616 | 80863 |
| Kerala | 9466 | 6594 | 50 | 16110 |
| Ladakh | 183 | 1025 | 2 | 1210 |
| Madhya Pradesh | 7335 | 17359 | 780 | 25474 |
| Maharashtra | 140395 | 194253 | 12854 | 347502 |
| Manipur | 649 | 1466 | 0 | 2115 |
| Meghalaya | 452 | 78 | 4 | 534 |
| Mizoram | 149 | 183 | 0 | 332 |
| Nagaland | 644 | 530 | 0 | 1174 |
| Odisha | 6592 | 14393 | 114 | 21099 |
| Puducherry | 986 | 1400 | 34 | 2420 |
| Punjab | 3721 | 7741 | 277 | 11739 |
| Rajasthan | 8811 | 23815 | 594 | 33220 |
| Sikkim | 338 | 122 | 0 | 460 |
| Tamil Nadu | 52939 | 136793 | 3232 | 192964 |
| Telangana | 11052 | 39327 | 447 | 50826 |
| Tripura | 1574 | 2072 | 10 | 3656 |
| Uttarakhand | 1986 | 3399 | 60 | 5445 |
| Uttar Pradesh | 21012 | 35803 | 1289 | 58104 |
| West Bengal | 18846 | 31656 | 1255 | 51757 |
| Total# | 440135 | 817209 | 30601 | 1287945 |
ALSO READ | Independence Day celebrations to be low-key under cloud of COVID-19 | Check Guidelines