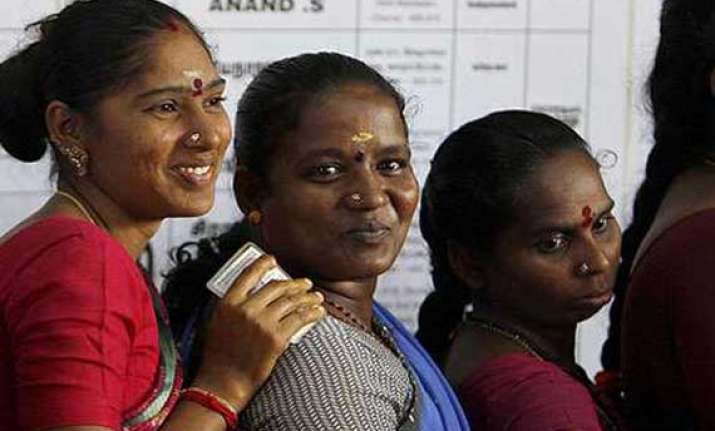 Chennai: The single-phase polling for 39 Lok Sabha seats in Tamil Nadu tomorrow would put to litmus test the capabilities of ruling AIADMK, sibling war driven DMK trying to revive its electoral fortunes ahead of 2016 Assembly elections, and BJP's hopes of riding the 'Modi wave' to make a mark after drawing a blank in two previous polls.
Chief Minister J Jayalalithaa-led AIADMK has pumped in all its resources into this high-stake election as it is firm on extending its winning streak since 2011 Assembly polls and propel the party supremo into the national political map to enable her realise her aspirations of playing a greater role. 
Dethroned in 2011 and battered by full-blown sibling war between his two sons—Treasurer M K Stalin and expelled Madurai strongman M K Alagiri—DMK patriarch M Karunanidhi is working hard to revive the electoral fortunes of his party after consciously dumping its decade-old ally Congress, apparently apprehensive of UPA's anti-incumbency factor. 
DMK's success in this election also rests on the stand Karunanidhi's rebellious son Alagiri adopts as the latter has been vocal that DMK candidates, especially in Virudhunagar, Theni and Thanjavur, should lose.
DMK has taken local players like VCK, MMK, IUML and Puthiya Tamizhagam on board in its Democratic Progressive Alliance (DPA) in an apparent bid to net minority and Dalit votes and challenge AIADMK in this election, which is crucial for both Dravidian outfits with the next Assembly polls due in just two years.
BJP, which managed to stitch up a six-party 'rainbow' alliance, roping in cine star-turned-politician Vijayakant's DMDK, Vanniyar community backed PMK among others, expects the combine to pose a hurdle for AIADMK and DMK in some constituencies, having presented a third alternative.