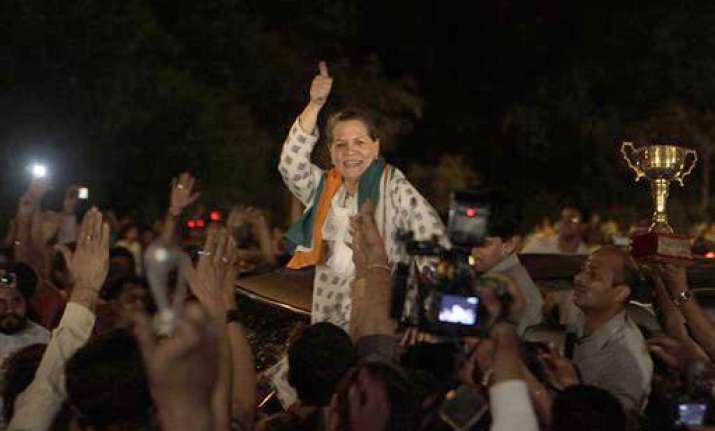 New Delhi/Mumbai, April 3 :Congress President Sonia Gandhi  came out on the streets of Delhi on saturday night and joined thousands of ecstatic fans in celebrating India's World Cup cricket triumph.

As soon as the Sports Utility Vehicle carrying her stopped on Bahadur Shah Zafar Marg near the busy ITO crossing at around 11pm, a beaming Gandhi came out of it, waved the national flag, shook hands with the fans, displayed Victory and thumbs-up signs, drawing lusty cheers from the crowd around.

She told the fans that the Indian cricket team has done the country really proud by winning the Cup.The fans responded to her by singing "India.....India" and "Vande Mataram" in a rhythmic manner.

Guarded by Special Protection Group personnel, Gandhi was in the midst of the fans for about 20 minutes before she drove off towards the Delhi Gate.

In Mumbai,  megastar Amitabh Bachchan with son Abhishek came out of his residence and went in an open vehicle to join the hordes of fans celebrating India's World Cup win.
 
Superstar Shah Rukh Khan danced madly holding the national tricolour with fans in Mumbai.Bollywood star Hrithik Roshan along with wife Suzanne was seen celebrating India's win on the streets of the megapolis.