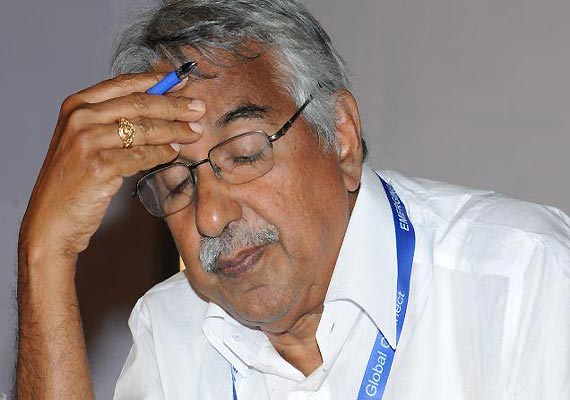 Kochi/Thiruvananthapuram, Jul 23: In a huge embarrassment to Congress-led UDF Government, Kerala High Court today made sharp critical observations about the probe in solar panel scam but Chief Minister Oommen Chandy ruled out his resignation over the development as demanded by LDF opposition.
Considering separate pleas related to the scam, two benches of the High Court expressed dissatisfaction at the probe and sought to know from the prosecutor if the government was trying for some sort of a cover-up.
Considering the bail plea of scam accused and tele actress Shalu Menon, justice S S Satheeshchandran found fault with the way the police had been handling the case and said the Court would not hesitate to summon ADGP A Hemachandran, who heads the Special Investigation Team (SIT).
The judge also raised questions about production of key accused Saritha Nair in a Magistrate Court yesterday despite her plea to allow her to give a written statement in a Kochi court.
Another judge V K Mohan, while considering a scam-related plea by businessman M K Kuruvila, sought to know from the prosecutor if an inquiry was not required to find out whether the Chief Minister was aware of the cheating.
Seizing on the issue, Opposition Leader V S Achuthanandan asked Chandy to step down without waiting for a moment.
Countering the opposition, Chandy said though he respected the court's observations, he would not act on the basis of the way the media had interpreted them.
"I am speaking to you (media) after learning the details from the Advocate General and Director General of Prosecution.  I always respect judiciary whether its decisions or observations are favourable or adverse. But I will not act in tune with how media is interpreting the observations," Chandy told reporters.
The LDF, which has been campaigning for Chandy's resignation and judicial probe into the scam for over a month, decided to step up their agitation in view of the development.
CPI(M) state secretary Pinaryi Vijayan said the court's observations were "very serious" and Chandy should not remain in office for a single moment if he was left with a modicum of respect for legal processes.