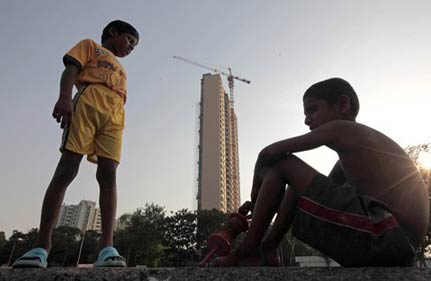 Maharashtra chief minister Ashok Chavan is speaking the plain untruth as proof surfaced of a principal secretary to the Maharashtra government invoking Kargil to seek clearance for the building from the Union ministry of environment and forests, reports Times Of India.
In a letter dated August 19, 1999 to the ministry, principal secretary S V Joshi used emotional language to canvass support for Adarsh housing co-operative  project.  The letter, inter alia states: " The members of the Society are the officers from defence services who have dedicated their lives in the service of Motherland and deserve all special consideration and several members of the society are even today fighting at Kargil...."
This, at a time, when our valiant jawans were in the last phase of Kargil war that shook the nation.  
The Kargil war actually ended on July 26, and according to Times of India, this purple prose was penned 24 days later to cash in, quite literally, on the upsurge of national sympathy for the Kargil Heroes.
Obviously, the invocation was designed to press the Ministry of Environment and Forests to clear an environmentally suspect project for  a "larger" cause, and what could be larger than the Kargil heroes? 
Ironically, the TOI report says, while only three members of Adarsh society had any connection with Kargil war, Maharashtra principal secretary S V Joshi sought to take advantage of the connection to issue this emotive appeal to the Centre.
In the letter date mentioned above,  Joshi went ton to wirte: "It is requested that considering the above mentioned facts, the NoC for development of land under reference may be considered as a special case."  Even then, the Ministry of Environment did not give it clearance and referred the case back to the state government.  
In another letter dated February 17, 2000, the Adarsh Housing society wrote to the then Maharashtra CM Vilasrao Deshmukh that the local military authorities were willing to allow the society to build the complex. "If certain amount of accomodation is also provided for Army Welfare, that is, for girls' hostel, who willb e female children of Army officers serving in far-flung and field areas".  
The girls' hostel, of course, never materialized and the flats were grabbed by dishonest politicians, bureaucrats, former army men and their relatives