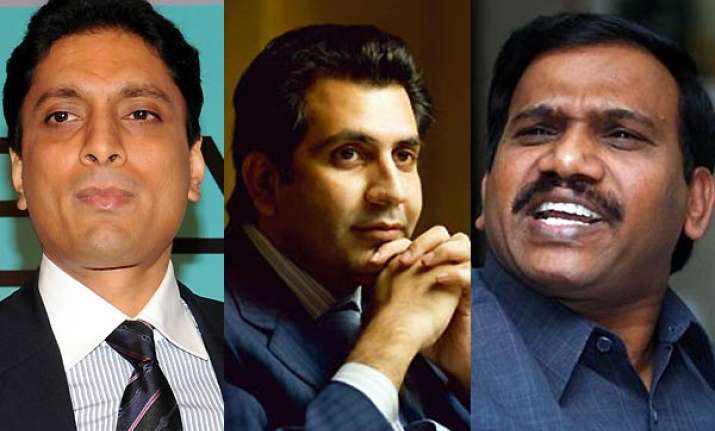 New Delhi, Apr 14 : Unitech's managaing director Sanjay Chandra and DB Realty group owner Shahid Balwa used to meet former Communication Minister A Raja regularly at his residence, Aseervatam Achary, former additional private secretary of Raja has recorded before a magistrate, reports Times of India.
 
"I saw Sanjay Chandra of Unitech visiting the residence of A Raja in and around September-October 2007. As regards Shahid Balwa or any other person connected with Swan Telecom, I state that Shahid Balwa was a frequent visitor to the residence camp office of A Raja", Achary said in a statement recorded under Sec 164 CrPC.
 
Acharya also revealed that during the period when Raja was Environment and Forest Minister, Vinod Goenka and Shahid Balwa had become very close to him. They were regular visitors of Raja and in direct contact with R K Chandolia, Raja's former PS, who is  presently in Tihar jail.
 
Achary's statement backs CBI's theory that  the companies were working in tandem with Raja for the 2G spectrum licences.
 
Sources told Times of India that Achary has provided clinching details to help CBI piece together the conspiracy behind the 2G scam, including Raja's proximity with most of the important private sector players.
 
CBI's claim of Swan Telecom being the front of Reliance ADAG has been backed by the former company secretary of Swan Telecom, Deodutt Pandit, who made a statement before the magistrate that he hd forged documents in October 2007 to show that shares from a Reliance ADAG firm - Giraffe - were transferred to Shahid Balwa's DB Realty in February 2007.
 
"I prepared the minutes on the basis of share transfer applications provided by Asif Balwa, another director of Swan Telecom", Pandit told the magistrate.
 
Pandit also told the magistrate that Swan Telecom was transferred to DB Realty and its records and details related to shareholdings were maintained in digital form.
 
Another important witness of CBI, Ashish Karyekar, former Reliance ADAG executive, has claimed that Swan was "fraudulently transferred" from Reliance to the DB Realty group, to make it eligible for 2G licence and spectrum. Otherwise, it would have violated the ruling prohibiting  a telecom operator from holding more than 10 per cent stake in another operator in the same circle.
 
In his statement, before the magistrate, Karyekar claimed that he never signed the board meeting papers. "No board meeting of Giraffe Consultancy took place on February 25, 2007. I don't know who prepared the forged minutes of Giraffe, as these might have been prepared after Giraffe Consultancy was taken over by the DB Group."
 
Karyekar told the magistrate that Giraffe was promoted by Reliance Energy Management Services.