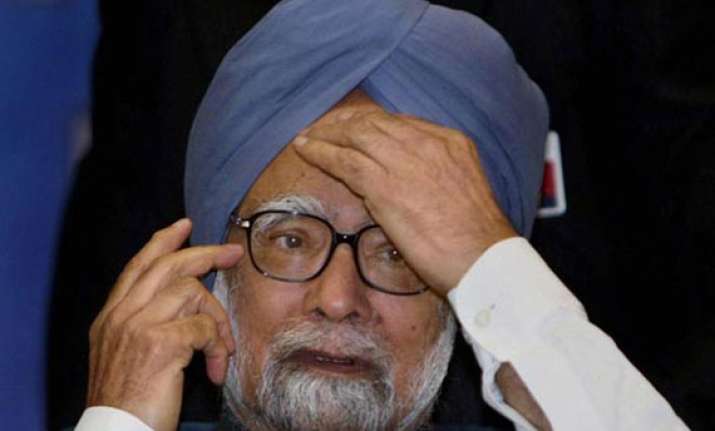 New Delhi, June 5: Prime Minister Manmohan Singh on Wednesday described the security situation in the northeast as "complex" since insurgency, extortion and agitations continue to exist in the region.
"The security situation in the northeast continues to be complex, with insurgency, extortion and agitations being the main disruptive elements in the hands of the insurgents," he said in his address at the conference of Chief Ministers on internal security.
Dr. Singh, however, said there has been considerable progress in dialogue with several insurgent and ethnic separatist groups in the north-eastern region.
"A memorandum of understanding has been signed with both factions of Dima Halam Daogah of Dima Hasao in Assam. Three Metei insurgent groups have signed a memorandum of understanding in February 2013. Talks with the National Socialist Council of Nagaland are continuing," he said.
The Prime Minister said the central government was committed to undertaking and bringing to a satisfactory conclusion dialogue with all groups and organisations which are willing to give up violence to seek solutions within the framework of our Constitution.
"We are equally firm in our determination to continue assisting the states of the northeast to enhance their law and order enforcement capabilities, so that the people of the northeast enjoy the normal fruits of democracy and development," he said.
Dr. Singh said the Gorkhaland Territorial Administration (GTA) has been set up as an autonomous body in August 2012 to administer the Gorkhaland region and ensure its all-round development.
"The Centre is committed to providing financial assistance of Rs 200 crore per annum for three years for projects aimed at developing the socio-economic infrastructure in the GTA areas," he said.
In his address, Union Home Minister Sushilkumar Shinde said Suspension of Operations Agreements have been entered with various insurgent groups in the northeast and these groups have shown willingness to give up violence and seek solutions for their problems peacefully within the Constitution.
"Our government is ready to talk with any group or outfit which is willing to abjure violence and lay down arms like Kuki National Organisation and United Peoples Front in Manipur. Further, Metei groups like URF, KCP and KYKL along with their factions, signed MoS in February, 2013 paving way for surrender of their cadres," he said.
Mr. Shinde said peace talks are also being held with a number of outfits like ULFA, NDFB(P) and NDFB(RD). These strategies have resulted in steady reduction in the level of violence.
"Moreover, the aforesaid strategy of the government has also encouraged surrender by militants belonging to various groups and their participation in the political process.
"The central government is continuously assisting the north-eastern states by the deployment of central paramilitary forces to assist the state police in counter-insurgency operations and upgrading their skill level.
The Home Minister advised Mizoram and Tripura governments to sit together and discuss the issue of Bru migrants from a humanitarian angle so as to ensure that the new generations of the migrant families are not denied their share in development.
"While the funds provided by the Centre for resettlement and rehabilitation should be utilised so as to achieve the plan of rehabilitation at the earliest, the problem creators should be identified and dealt with sternly," he said.
'Coordinated action needed against insurgents'
The Chief Ministers of Northeast states sought the Centre's help in launching coordinated action against insurgents taking shelter in various states as well as neighbouring countries.
Assam Chief Minister Tarun Gogoi said coordinated action was needed in Arunachal Pradesh, Nagaland, Manipur and Meghalaya if training, arms supply transit routes and shelters of militants are to be chocked.
"Myanmar remains a foreign sanctuary and there are efforts to reopen camps in Bhutan. Any reversal by a future Bangladeshi regime of the drive against Indian militants will revive the spectre of inviolate sanctuaries across our borders," he said at the conference of Chief Ministers on internal security in New Delhi.
Mr. Gogoi said he supports the concept of NCTC with a caveat that the states should be more engaged whether in developing intelligence leads or in executive action.
As per reports available, Tripura Chief Minister Manik Sarkar said, NLFT(BM) (National Liberation Front of Tripura-Biswamohan faction) has as many as 19 hideouts in Bangladesh, four of which are located within 10 km of the Indo-Bangladesh border.
"The group has been trying to make fresh recruitments. Reliable reports also indicate that most of the Northeast insurgent groups, including NLFT(BM), have formed a common platform called United Forum, which may pose a serious threat to all NE states and to the country as a whole," Mr. Sarkar said.
His Mizoram counterpart Lal Thanhawla said various militant groups from neighbouring Northeast states and countries like Myanmar and Bangladesh have taken advantage of the porous and inhospitable terrain along the inter-state and international borders.
"This has direct bearing on the internal security for not only Mizoram, but also for the whole Northeastern states as insurgent groups used it as a conduit for arms smuggling and for crossing over to neighbouring countries for seeking refuge or training," he said.
Meanwhile, Meghalaya Chief Minister Mukul Sangma said lack of adequate strength of the police force and difficult terrains have had its limitations on counter insurgency operations, thus emboldening the militant outfits to continue in their nefarious activities.
"But despite constrains and challenges, continuous vigilance coupled with regular operations to flush out the militants and other anti-social elements indulging in extortions and other nefarious acts have helped in checking the activities of various outfits," he said.
Representing Sikkim, state Urban Development Minister D.B. Thapa said formation of separate states may renew unrest in the region adjoining Sikkim.
The Gorkha Janmukti Morcha is keeping close watch on formation of separate states and its formation may lead agitation for such demands in hills, he said.
Mr. Thapa said that its adverse effect will also be experienced in Sikkim which has its distinct identity and cultural heritage.