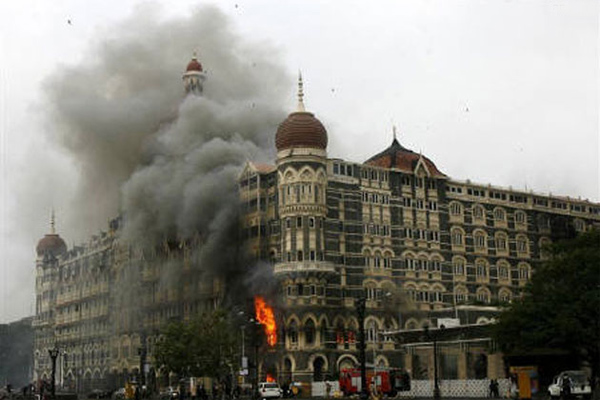 New Delhi, Feb 22: The intercepted conversation between the executors of 26/11 Mumbai terror attack and their Pakistani handlers during the carnage will be played in the Supreme Court tomorrow after the prosecution said it was an important evidence showing the strikes were "pre-planned". 

Hearing an appeal of Mohd Ajmal Amir Kasab, the sole convict of the carnage, against his death sentence, the court today said it would hear the intercepts tomorrow at 2 pm in the presence of counsel appearing for Kasab and the Maharshtra government.




Former Solicitor General Gopal Subramaniam, appearing for the Maharshtra government, said there was no problem in playing the conversation in the court and all arrangements would be made for the bench to hear the same. 

A bench of justices Aftab Alam and C K Prasad decided to listen to the conversation since the prosecution submitted that it was an important piece of evidence. 

The prosecution had earlier told the court that the intercepts  among the ten terrorists and their handlers in Pakistan established that the terror attack in Mumbai, in which 166 people were killed, was "pre-planned and pre-arranged."

The apex court was told that evidence in the 26/11 Mumbai terror attack case involving Kasab and nine slain terrorists clearly showed it to be a "pre-meditated" assault on the country's commercial capital by Pakistani terrorists, guided by their handlers from across the border. 

"From the diary and intercepts of telephonic conversation between the terrorists and their handlers, three things are clear that the attack in Mumbai on November 26, 2008 was pre-meditated involving ten terrorists who were from Pakistan," Subramaniam and Special Public Prosecutor Ujjwal Nikam had said while seeking the apex court's endorsement of the death sentence awarded to 24-year-old Kasab.

 Subramaniam had said that the diary recovered from the boat, Kuber, used by the terrorists to reach Mumbai, disclosed that they had come together and on reaching the city, they got divided into five groups with specific targets. 

The prosecution said while the attack was launched at the Hotel Taj at the Gateway of India, the terrorists were interacting with their Pakistani handlers and the intercepted conversation clearly showed that they (handlers) asked them (terrorists) as to "why they did not sink the Kuber boat". 

Subramaniam said the Pakistani handlers also sought confirmation about the killing of the navigator of Kuber, Amar Singh Solanki, who was beheaded by Kasab. 

The diary also disclosed that Kasab was known by the name Mujaheed to other terrorists.

The prosecution said on reaching Budhawar Park, Kasab and other Lashkar-e-Toiba terrorist Abu Ismaile took a taxi and proceeded towards Chhatrapati Shivaji Terminus (CST) Railway Station which bore the major brunt of their design.