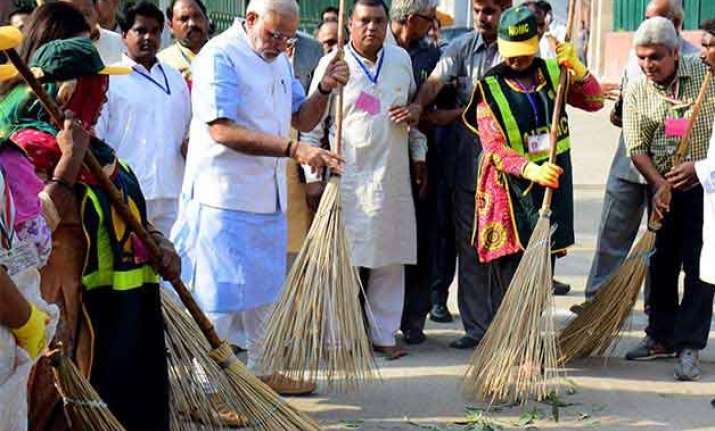 New Delhi:  Government has spent Rs 94 crore on advertisements alone for Prime Minister Narendra Modi's pet SwachchBharat Mission, which is a rechristened version of erstwhile UPA's Nirmal Bharat Abhiyaan.
An RTI response from the Ministry of Drinking Water and Sanitation, the nodal ministry for the scheme, said government had spent Rs 2.15 crore for advertisement and publicity, Rs 70.80 lakh on advertisements in print newspapers, Rs 43.64 crore on audio visual advertisements, Rs 25.88 crore advertisements through DAVP in TV channels, Rs 16.99 crore advertisements in Doordarshan and Rs 5.42 crore of advertisements in radio during 2014-15.
"Department of Drinking Water and Sanitation of Government of India runs scheme Swachch Bharat Mission (rural), which was earlier Nirmal Bharat Abhiyaan. Under the scheme, states are provided with technical and financial assistance," the ministry said.
Responding to Lucknow-based RTI Activist Sanjay Sharma, the ministry said the district administration transfers funds to Panchayats which spend the amount sent under the scheme.
"Sanitation being a state subject, the responsibility to implement on the scheme is on the State Governments," it said.
The website of the Mission states that it aims to bring about an improvement in the general quality of life in the rural areas, by promoting cleanliness, hygiene and eliminating open defecation.
The scheme was launched by the Prime Minister on October 2, 2014, which was expected to cost over Rs two lakh crore over the five year period.
The scheme also targets to accelerate sanitation coverage in rural areas to achieve the vision of Swachh Bharat by October 2, 2019, the 150 birth anniversary of Mahatma Gandhi.