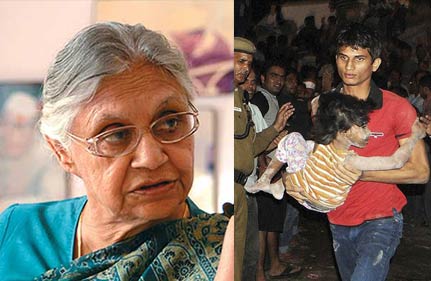 New Delhi, Nov 17 : Delhi Government today announced an ex-gratia of Rs two lakh each to the families of those killed and Rs one lakh to those injured in the east Delhi building collapse.
Chief Minister Sheila Dikshit and Lieutenant Governor Tejindra Khanna, who today visited the site of the building collapse in Lakshmi Nagar, said strict action would be taken against those found guilty for the incident which has left 65 people dead and at least 80 injured.
Khanna said he has told MCD to carry out a survey of all buildings in Shahadra zone so that weak buildings can be retrofitted to prevent similar incident in future while those beyond repair will be sealed.
"I have told MCD commissioner to carry out a survey with help from Central Building Research Institute in Roorkee. After the survey, retrofitting of weak buildings can be carried out. Those which cannot be retrofitted will have to be sealed," he said.
Dikshit said already magisterial inquiry has been ordered and strong action would be taken against those found responsible for the collapse.
"Strict action would be taken against the guilty...The builder is absconding," she.While Rs two lakh ex-gratia will be given to families which have lost an adult member, Rs one lakh will be given in case of death of a child. PTI