Follow us on In 2006-07, India approved the construction of 73 strategic Sino-Indian border roads, but 82% of these–scheduled to be ready by 2012–are unfinished. The new deadline: 2018.
Despite ambitious plans, India cannot seem to catch up with China in building infrastructure and militarising the 3,488 km border between the two countries.
The roads are part of a quiet but extensive Indian border-strengthening plan, which includes a new army corps of 35,000 (down from 90,000) soldiers, specifically to counter China's burgeoning conventional forces across the Himalayas, and 14 strategic rail links to deploy troops and supplies.
There is little doubt that India is wary of Chinese abilities and intentions, despite recent declarations of peace.
"It is not a volatile border. Not a single bullet has been fired for over a quarter of a century now," Prime Minister Narendra Modi said in an interview with the magazine TIME, ahead of a visit to China.
Modi and Chinese premier Li Keqiang also agreed to "resolve outstanding differences"  and maintain "peace and tranquillity" but on the border, "transgressions" –as Chinese posturing and troop forays along the unmarked Line of Actual Control (LAC) is called–are common.
As many as 1,612 transgressions by Chinese troops inside Indian territory took place between 2010 and August 2014 (see IndiaSpend report), according to data released by the Ministry of Home Affairs.
New roads are being built, but progress is slow
"While our neighbouring countries can reach the borders within two or three hours, our army takes more than a day to reach there. This is a matter of great concern with regard to our defence preparedness. "
 
These are the observations of a parliamentary committee of defence report, alluding to the situation in Tawang, Arunachal Pradesh.
No more than 19 of 73 approved roads have been built, according to the report.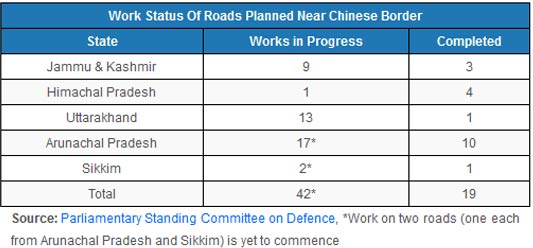 Delays on 40 roads have pushed deadlines by as far as six years, while construction of two roads has not started.

In Assam, India's longest bridge, 9.15-km long, will be thrown open later this year. It costs Rs 876 crore and is built to bear 41.5 tonne T-72 tanks and cut travel time to the Lohit district of Arunachal Pradesh, which lies along the LAC.
Rail plans still only plans, while China nears the border
 
India envisages urgently building four rail lines in the states of Arunachal Pradesh, Assam, Himachal Pradesh, and Jammu & Kashmir, stretching 1,352 km, to be built collectively by the ministries of railways and defence.
While final surveys continue, China is already extending existing rail lines to the border: To Yatung, a trade centre close to Sikkim, and Nyingchi, a small town bordering Arunachal Pradesh. Both projects are expected to be completed by 2020.
China recently completed a railway line connecting the Tibetan capital of Lhasa to Shigatze, a town close to the Nathu La pass, a strategic border post connecting Sikkim with the Tibetan Autonomous region.
Below are India's railway plans: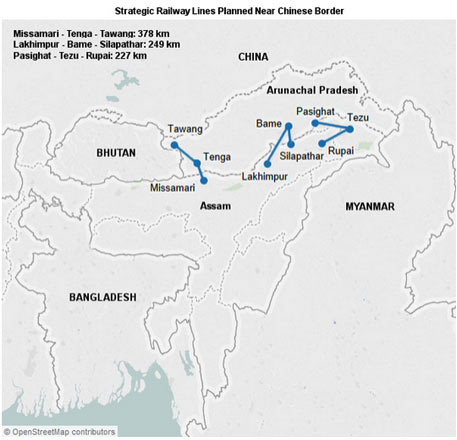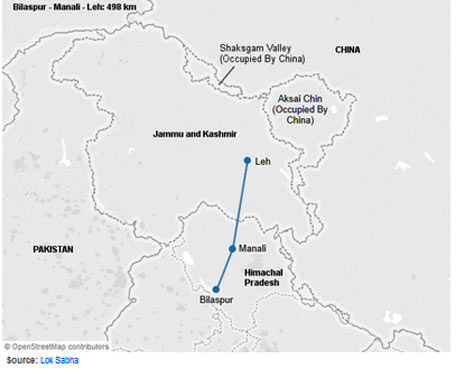 Besides the contentious border, the Sino-Indian border dispute is also fuelled by the Chinese claim to nearly 90,000 sq. km of Arunachal Pradesh, which it refers to as South Tibet, and the Indian claim that China illegally occupied nearly 30,000 sq km of the deserted Aksai Chin region of northern Jammu and Kashmir after the 1962 war.
Chinese airfields grow stronger
 
Six key  civilian Chinese airfields in Tibet are being expanded to handle military operations, according to Air Marshal (retd) M Matheswaran, former Deputy Chief of Integrated Defence Staff for Policy, Plans and Force Development.
Alongside, he said, China is deploying advanced military aircraft and support systems, such as air-to-air refuelling capabilities, airborne advance warning systems, sensors, air-defence systems and missile stock.
By contrast, India recently opened three advanced landing grounds (ALG) in J&K's Ladakh region at Daulat Beg Oldi, Fuk Che and Nyoma, all close to the LAC.
Daulat Beg Oldi is the world's highest airfield at an altitude of 16,614 feet. It is about 10 km from the Sino-Indian border and has seen regular landings of heavy transport aircraft.
But such landing grounds are not full-fledged air bases. They are landing strips that can be used to drop off troops and supplies.
 
This is why the Indian Air Force wants to upgrade the Nyoma landing ground by 2016-17 to station fighter jets and provide logistical support to the paramilitary Indo-Tibetan Border Police (ITBP) and Ladakh Scouts, an Indian army unit.
In Arunachal Pradesh, advanced landing grounds are being developed at Tawang, Mechuka, Vijaynagar, Tuting, Passighat, Walong, Ziro and Along, at a cost of Rs 720 crore.
Meanwhile, the Indian Air Force has to deploy its frontline Sukhoi-30 MKI aircraft at Chabua and Tezpur air bases in Assam, up to 405 km from the border. The Sukhoi 30 MKI can cover this distance in less than 15 minutes.
(India spend. org  is a non- profit)